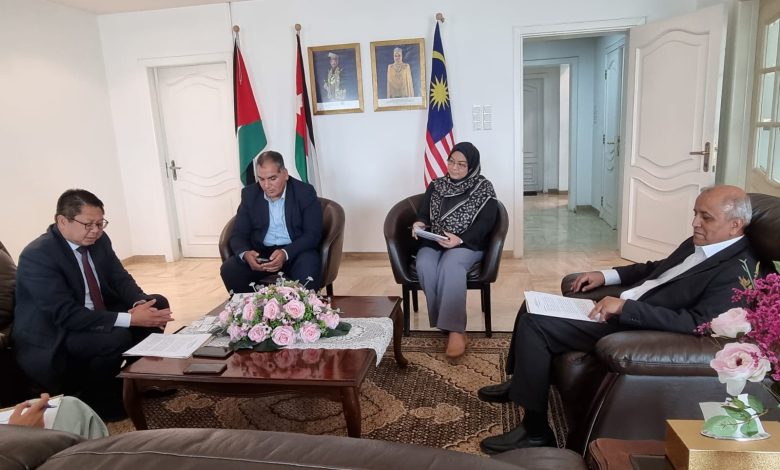 By : Nedal Zubeidi
---
Jordan Daily – Mohamad Nasri Bin Abdul Rahman, Malaysia's Ambassador to Jordan emphasized the growing collaboration between Malaysia and Jordan at all levels , in a recent interview with local media on the occassion of Malaysia's 66th National Day,
He highlighted the "warm and brortherly" relations between the two countries since they established diplomatic ties in 1965, noting their shared values and interests, including concerns related to the Muslim Ummah and the situation in Palestine.
Ambassador Abdul Rahman underscored that these strong ties have led to collaborations in various fields, including trade and investment, energy, higher education, pharmaceuticals, and defense, among others.
During the interview, Ambassador Abdul Rahman noted that bilateral trade between Malaysia and Jordan reached $186.64 million in the first half of 2023 , outlining Malaysia's top five exports to Jordan, which included palm oil and palm oil-based agricultural products, textiles, apparel, footwear, palm oil-based manufactured products, rubber products, and processed food. On the other hand, Malaysia's top five imports from Jordan included chemicals and chemical products, crude fertilizers, crude minerals, textiles, apparel, footwear, other agricultural products, and metal products.
Moreover, he announced that the Malaysian Embassy in Jordan, in collaboration with the Malaysia External Trade Development Cooperation (MATRADE) and the Amman Chamber of Commerce (ACC), is planning to host a trade webinar in October. The event will provide a platform to discuss bilateral trade and investment opportunities and facilitate connections between businesses from both countries.
Ambassador Abdul Rahman also highlighted Malaysia's attractive business and conducive business environment which offers incentives for foreign companies to invest, including pioneer status, investment tax allowances, reinvestment allowances, and customized package investment incentives.
The ambassador expressed optimism about expanding tourism cooperation between Malaysia  and Jordan . He mentioned that Malaysia achieved recognition as the "TOP Muslim-friendly Destination of the Year" and received the title of "Muslim Women-friendly Destination of the Year" in 2023. Malaysia aspires to further develop the halal tourism industry and strengthen its position as a leading destination for muslims and muslim women travelers.
He indicated that the Malaysian Embassy is actively exploring opportunities for cooperation with Jordan to boost tourism, including the potential resumption of a direct flight route between Kuala Lumpur and Amman. He highlighted Jordan's appeal as a tourism destination for Malaysians, with its diverse natural, archaeological, and religious sites. Additionally, he extended an invitation to Jordanians to explore Malaysia's compelling tourism attractions which include shopping, cruising, honeymoon experiences, and nature-based adventures.
The ambassador pointed out the significant presence of Malaysian students in Jordan, with around 1,500 students enrolled in various universities, studying Arabic language, Islamic affairs, and Islamic banking. In return, there are currently 1,744 post-graduate students from Jordan pursuing their studies in Malaysia , highlighting the positive career prospects for Jordanian graduates, with many securing positions in the public sector and reputable organizations.
He shared Malaysia's aspiration to become a global education hub known for its high-quality standards and educational systems , encouraging Jordanian students to consider Malaysia as a preferred destination for their tertiary education.
The ambassador also emphasized Malaysia's commitment to South-South cooperation, particularly through the Malaysian Technical Cooperation Programme (MTCP). Under this framework, Malaysia offers capacity-building programs to 144 developing countries, including Jordan.
He noted that since the program's inception in 1980, Malaysia has trained 487 Jordanian civil servants , with 59 participants in 2022 alone. These programs cover a wide range of development areas, including technical and vocational training, maritime management, public administration, cybersecurity, rural advancement, aviation management, petroleum technology, and Islamic banking and finance.
Embassy of Malaysia in Amman is hosting a reception this evening to celebrate Malaysia's National Day.