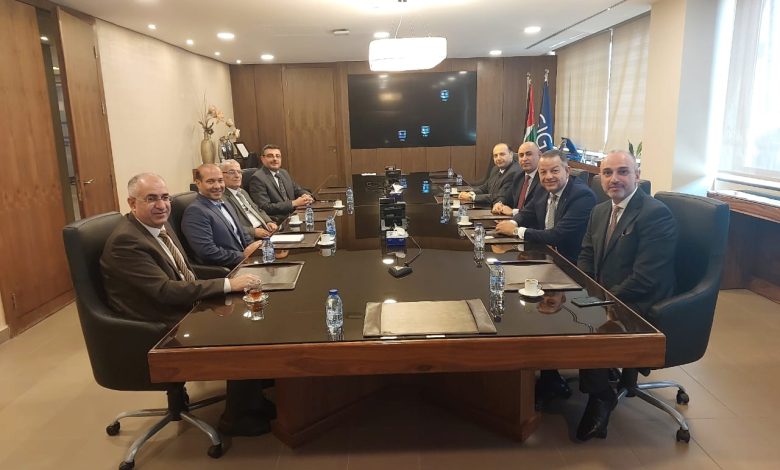 Jordan Daily – The executive committee of the marine Insurance , operating under the Jordan of Insurance Federation (JIF) , convened on Thursday to engage with Dr. Ali Al-Wazni, CEO of Gulf Insurance Group (GIG ) and member of the Executive Committee  of the Arab War Risks Insurance Syndicate (AWRIS) based in Bahrain.
Present at the meeting were Mr. Alaa Abdel-Jawad, a board member of (JIF) and coordinator of the Marine Insurance Committee, along with the Chair and other committee members including Mr. Odeh Abu Dayyeh, Mr. Iyad Abu Saad, Mr. Moataz Al-Jokhadar, Mr. Abdel-Hamid Abu Shahout, Mr. Omar Shafiq, and Mr. Maher Awad from the Federation.
The Committee extended its congratulations to Dr. Ali Al-Wazani on his recent appointment as a member of the executive committee of (AWRIS) , representing the Jordanian insurance market.
Deliberations revolved around strategies for collaboration between marine insurance divisions within Jordanian insurance firms and (AWRIS) . Central topics encompassed the provision of essential insurance coverage, reinforcement of cooperation efforts, and the potential introduction of innovative insurance products. These steps were aimed at bolstering the marine insurance sector and delivering comprehensive coverage to clients, including merchants and importers.
In response, Al-Wazani expressed his appreciation for the dedication exhibited by (JIF) and the Executive Committee's visit , acknowledging the Federation's commitment to liaising with diverse relevant entities and establishments to advance the sector's interests, as well as fostering connections with international and Arab institutions.