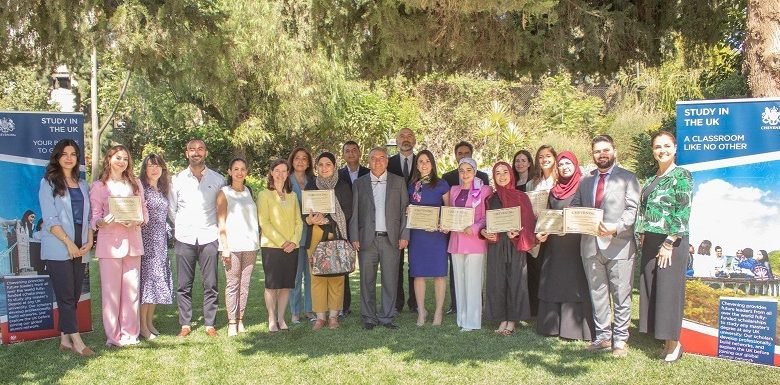 Jordan Daily – The British Ambassador to Jordan, Bridget Brind, extended warm congratulations to the latest cohort of Chevening Scholars from Jordan during a farewell event hosted at the British Residence.
The event marked the imminent departure of these exceptional scholars to the United Kingdom (UK), where they will pursue one-year Master's degrees at some of the UK's most renowned universities.
In an embassy statement released on Monday, it said that Chevening Scholarships, a cornerstone of the UK Government's global scholarship initiative, are financially supported by the Foreign Commonwealth and Development Office.
As part of this prestigious scholarship program, recipients receive comprehensive financial backing to pursue eligible Master's degrees across a diverse range of disciplines at the UK's world-leading educational institutions. To be considered for this opportunity, applicants are required to showcase evidence of their leadership capabilities and possess a minimum of two years of professional experience.
Annually, the Chevening Program meticulously selects outstanding candidates to partake in educational pursuits within the UK. Aspiring scholars who exhibit not only potential but also a readiness to emerge as future frontrunners and influencers in their respective domains are strongly encouraged to apply.
The scholars will study for degrees in a variety of fields including Innovation and Entrepreneurship, International Development, Biomedical Engineering, Business, Sustainable Energy and International Law. This will equip them with the skills to make a difference in Jordan when they return.
"As we celebrate the 40th anniversary of the Chevening Scholarship Scheme, I congratulate all those Jordanians selected to receive these prestigious awards this year. These remarkable students will have the opportunity to advance their qualifications at world class UK universities, explore the vibrant life and culture of the UK, and develop leadership skills and knowledge which they will be able to bring back to benefit Jordan," Brind said.
"We are proud that this year one of only three students globally to be awarded the unique Chevening Fellowship is from Jordan, highlighting the impressive young talent in this country. I wish all our new Chevening awardees every success with their studies in the year ahead," she added.