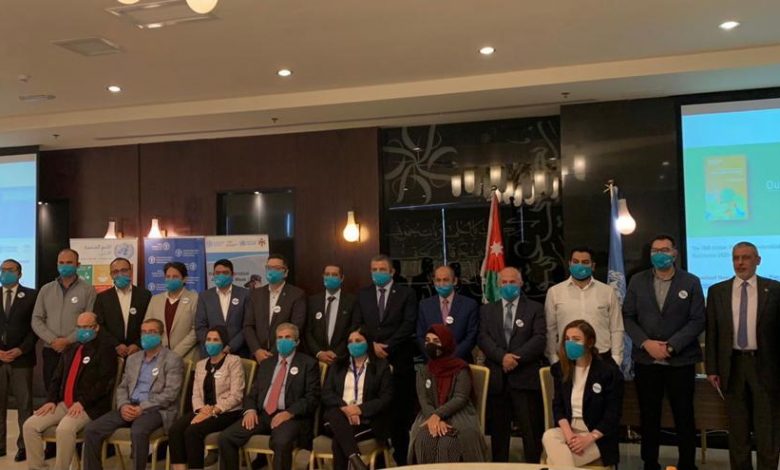 Jordan Daily – The Food and Agriculture Organization of the United Nations (FAO) in Jordan organized an awareness-raising day in cooperation with the Ministry of Agriculture (MoA) – Veterinary Directorate in Jordan to help identify the needed antimicrobial resistance (AMR) interventions during the World Antimicrobial Awareness Week (WAAW) by identifying the governmental measures taken to curb this phenomenon, and several veterinarians and relevant stakeholders in the animal production sector participated.
The Tripartite of the Food and Agriculture of the United Nations (FAO), World Organization for Animal Health (OIE), and the World Health Organization have announced this year's theme for the World Antimicrobial Awareness Week (WAAW). Spread Awareness, Stop Resistance.
It is worth mentioning that this global event is celebrated from 18-24 November every year it aims to address the global health concern on the spread of antimicrobial resistance, FAO – Jordan indicated in a statement.
AMR is the ability of micro-organisms to survive from antimicrobials, which previously was unable to do. AMR naturally occurs in bacteria, viruses, fungi, and parasites; however, misuse of antimicrobials in humans, animals, and plants has hastened its emergence and spread. Microorganisms, when subject to repeated exposure to antibiotics and other antimicrobials, become resistant to treatments that were supposed to kill or suppress them, rendering the drugs ineffective and raising the specter of uncontrollable "superbugs". Around 700 000 human deaths, each year are related to AMR and the number may soar to 10 million by 2050 without action to mitigate the risks.
The FAO Representative in Jordan Eng. Nabil Assaf, said, "AMR is a particular risk for agriculture in general and livestock in particular, since it is a primary user of antimicrobials, as misuse or overuse generates resistance that decimates animals and the livelihoods dependent on them. Antimicrobials are also used on crops and in aquaculture to prevent output losses." He added that "FAO is working with its partners to establish an AMR Multi-Stakeholder Partnership Platform with the help of hundreds of inputs from around the world, to be operational in 2022 and assure that all aspects and all levels of the AMR threat spectrum are addressed."
Dr. Jamela Al-Raiby, the Representative of the World Health Organization in Jordan said  "Only use antimicrobials and antibiotics when they are prescribed by a doctor, do not share or use leftover antimicrobials, and follow infection prevention measures. Together, we can raise awareness of this threat in our workplaces and communities."
On behalf of Eng. Khaled Hnaifat, Minister of Agriculture, the Assistant Secretary-General for Livestock, Eng. Ali Abu Nukta "Our goal is to protect and provide comprehensive services by applying effective prevention and treatment methods of optimal use of antibiotics through a multi-sectoral approach between health care providers and policymakers in the health and veterinary sectors, to achieve the concept of One Health that links different efforts to limit the spread of infectious diseases in all sectors."
He added, "work must be continued to implement the national action plan, which will contribute to strengthening the response to antimicrobial resistance in line with the recommendations of all international organizations.
Furthermore, a new FAO Action Plan on Antimicrobial Resistance 2021-2025 was published on Friday, which will be a guide for FAO's support to its Members. It notes that because resistant microbes cross borders, a global effort is the only way to assure everyone is protected. Among its key principles is the need for science-based evidence to identify and manage AMR risks before they become large-scale emergencies, the utility of surveillance and training around the world, the importance of incentivizing and empowering stakeholders to transform awareness of AMR risks into action.
The Action Plan follows a One Health approach and points to various possible improvements in agriculture practices to better control AMR, from good nutrition for people and animals, vaccination, hygiene, sanitation, and genetics, among other areas. Another key focus is in managing waste, as antimicrobials discharged from humans and animals as well as hospitals and abattoirs can enter the environment and speed up the emergence and spread of resistant strains and genes. The plan calls for more AMR-related research and surveillance in the crop, aquaculture, and environment sectors.
The workshop was conducted in collaboration with United Nations, the public sector, academia, research centers, professional associations, and the private sector.