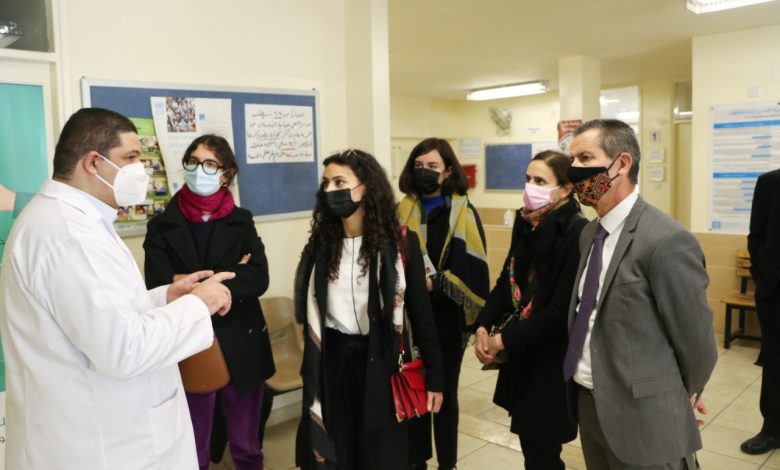 Jordan Daily – A delegation from the French Embassy in Jordan led by the Head of Cooperation, Mr. Gilles Roulland visited yesterday a United Nations Relief and Works Agency for Palestine Refugees in the Near East (UNRWA) installation in Amman New Camp.
The delegation received an on-site briefing about the situation of Palestine refugees in Jordan, including Palestine refugees from Syria (PRS), and were introduced to the emergency services UNRWA provides to PRS to provide protection and preserve their dignity. Further, the visit highlighted the Agency's adaptation of operations to respond to the COVID-19 pandemic and protection of its frontline workers. The delegation was accompanied by the Director of UNRWA Affairs in Jordan, Ms. Marta Lorenzo, as well as UNRWA staff.
At the UNRWA Amman New Camp Preparatory Girls' School, the delegation was briefed about the Agency's education programme and the resumption of in-class learning after months of online education. The delegation was also informed about the safety precautions in place at UNRWA schools to preserve students' health and ensure that schools remain open.
The briefing was followed by a visit to the UNRWA Amman New Camp Health Centre. The delegation had the opportunity to observe firsthand the UNRWA response to COVID-19 and the services its health programme makes available to Palestine refugees. The delegation was informed about the status of the COVID-19 vaccination campaign among Palestine refugees and UNRWA staff, made possible in coordination with the Jordanian Ministry of Health, for ensure access vaccination without discrimination or prejudice.
"UNRWA staff is showing remarkable commitment and one can only praise the Agency's excellent work in Jordan, contributing also to regional stability in the full respect of humanitarian principles. This deserves continuous and sustainable support from donors to ensure Palestinian refugees retain access to quality essential services and live in dignity. Within the last five years, France has significantly stepped up its contribution to UNRWA and remains committed to the Agency's work." Said Mr. Gilles Roulland.
"I am grateful to the people and government of France for their steadfast support to Palestine refugees in the region and specifically in Jordan. France has provided emergency assistance to those who have sought refuge from Syria (PRS) in Jordan. Cash-for-food assistance has been vital for strengthening the resilience of many families, particularly during COVID" said Ms. Marta Lorenzo.
The visit was concluded by a visit with Palestine refugee and PRS families residing in the camp, describing their living situation, the impact of the COVID-19 pandemic on their living conditions, their socio- economic situation and how they were supported by UNRWA.
France has been a dedicated and reliable supporter and partner to UNRWA for 70 years, reaching a total of over EUR 20 million in 2020 and over EUR 30 million in 2021 .