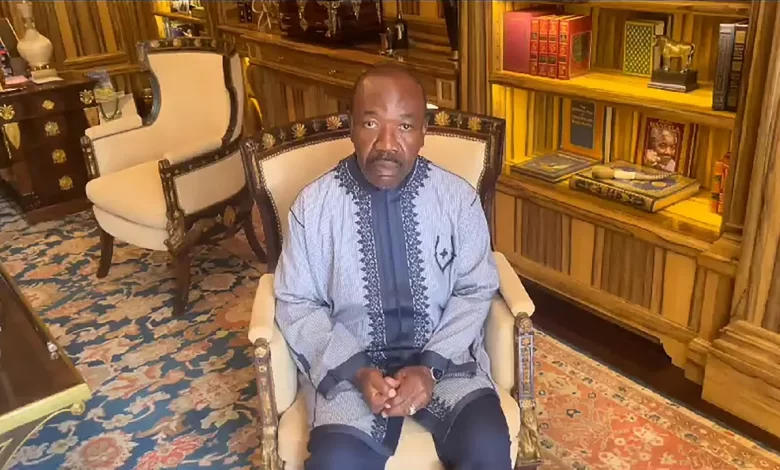 Jordan Daily – A military coup thrust the Central African nation of Gabon into turmoil Wednesday, unseating the president – whose family had held power for more than half a century – just minutes after he was named the winner of a contested election.
Ousted President Ali Bongo Ondimba, also known as Ali Bongo, has faced accusations of election fraud and corruption since he began ruling the oil-rich but poverty-stricken nation nearly 14 years ago. Following the coup, residents in the country's capital were seen celebrating and embracing soldiers on the street.
But much remains uncertain, with Bongo reportedly under house arrest, his son arrested, all borders closed and the government ostensibly shut down. International leaders have expressed concern and condemnation of the coup, some warning their citizens in Gabon to shelter in place.
The military's power grab began Wednesday, shortly after Gabon's election authority said Bongo had been re-elected president following last weekend's election.
Men in army uniforms announced on national television that they had seized power. They said the election results were voided, all borders shut, and numerous government bodies dissolved, including both houses of parliament.
The coup leaders said Bongo had been placed under house arrest, surrounded by "family and doctors." The ousted president's son, Noureddin Bongo Valentin, was arrested alongside six others for "high treason."
A video aired by the Agence France-Presse news agency shows Bongo seated in what looks like a library, saying he was "at the residence" and didn't know what was happening. "My son is somewhere, my wife is another place," he said.
It was not immediately clear under what circumstances the clip was filmed.
Meanwhile, the junta said Gen. Brice Oligui Nguema would act as a transitional leader. Speaking to French newspaper Le Monde, Oligui claimed Bongo was enjoying "all his rights" as a "normal Gabonese" citizen.
Videos of celebration in Gabon circulated online Wednesday, including footage of soldiers carrying Oligui on their shoulders and shouting "president."
Residents in the capital Libreville were seen dancing on the streets, according to videos posted on social media., people can be seen shouting "liberated!" and waving the Gabon flag in the Nzeng Ayong district of the capital, alongside military vehicles.
Similar scenes played out in other parts of Gabon, including the second-largest city Port-Gentil.
Some members of the Gabonese diaspora also celebrated Wednesday, with students from Gabon gathering outside the country's embassy in Dakar, Senegal.
"I assure you that what the Gabonese people wanted was just for the Bongo PDG system to leave power," one student said, referring to Bongo's political party, according to Reuters. "Because as we said, 60 years is too much."
It's hard to say – and there's still a lot we don't know.
For instance, questions remain over what will happen to Gabon's parliament and government institutions; what will happen to the country's leadership; what awaits Bongo and his family; and what the coup means for Gabon's international standing and diplomatic relationships given widespread criticism of the military's action from other countries.
The military is imposing a curfew from 6 p.m. to 6 a.m. and borders will remain closed "until further notice," a junta spokesperson said. However, Oligui has ordered signal to be restored to international radio and television channels.
Ali Bongo, 64, took over from his father, Omar Bongo, who died of cardiac arrest while receiving treatment for intestinal cancer in Span in 2009, following nearly 42 years in office.
The elder Bongo came to power in 1967, seven years after Gabon gained independence from France.
He ruled over the small nation with an iron fist, imposing a one-party system for years and only allowing multi-party rule in 1991, though his party retained its grip on government.
Ali Bongo began his political career in 1981, serving as foreign minister, congressman and defense minister before becoming president in 2009, according to the Gabonese embassy website in the United States.
But the Bongos have their fair share of critics, especially given the country's enormous wealth gap. A French financial police investigation in 2007 found the Bongo family owned 39 properties in France, 70 bank accounts, and nine luxury cars worth a total of 1.5 million euros, according to Reuters.
Each of Ali Bongo's three election victories has been deeply disputed, sometimes sparking violent nationwide protests. This week's election has been decried by the opposition as fraudulent; Bongo's team has rejected allegations of electoral irregularities.
Similarly in 2016, after Bongo was named the election victor, his main challenger said the decision by the country's constitutional court to validate the contested result was "biased." Another failed coup attempt against Bongo.
CNN & Agencies