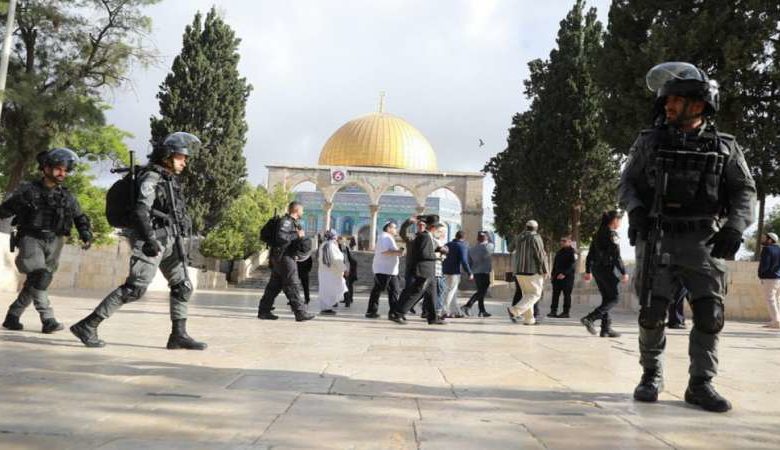 Jordan Daily – Israeli occupation forces increased their presence around Jerusalem's Al-Aqsa Mosque on Tuesday, obstructing Muslim worshipers from entering the mosque's courtyards and barring Palestinian citizens and students from accessing the compound, according to the Palestinian News Agency, WAFA.
At the same time, numerous Israeli Jewish settlers entered the compound in separate groups, conducting provocative tours through the mosque's courtyards, receiving explanations about the alleged "Jewish Temple," and performing Talmudic rituals near the Dome of the Rock.
The Islamic Waqf Department, responsible for the site, stated in a press release that Israeli forces allowed a significant number of settlers to enter the mosque's courtyards provocatively since early morning. They simultaneously clashed with Muslim worshipers and prevented those under 50 years old from entering the holy site.
The statement also disclosed that Israeli police were working to clear Muslim worshipers from the Al-Aqsa courtyards, resulting in approximately 15 individuals being forcibly removed from the holy site.
Israeli occupation forces also arrested two individuals near the Al-Aqsa Mosque, although their identities remain undisclosed at this time.
This incident exacerbates ongoing tensions surrounding Al-Aqsa Mosque, the third holiest site in Islam.
The Islamic Waqf, an authority overseen by Jordan that manages the holy site, has consistently called for international intervention to prevent these incursions, viewed as a direct challenge to the holy site's status quo and a disrespect to the sentiments of Muslims worldwide.