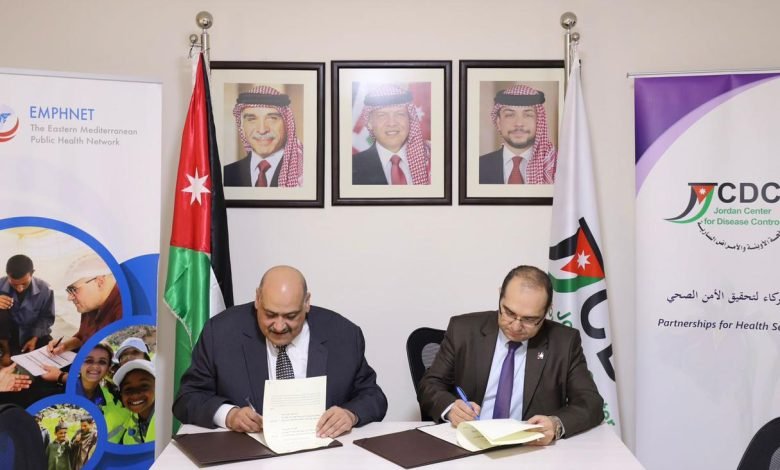 Jordan Daily – The Jordan Center for Disease Control (JCDC) hosted on Thursday the signing of a cooperation agreement between the JCDC and the Eastern Mediterranean Public Health Network (EMPHNET).
The agreement includes cooperation in developing training programs in disease outbreaks and communicable diseases, within the framework of enhancing the efforts of the two parties in building capacities of health service providers, according to a joint statement.
The agreement also provides for cooperation in the development of health protocols to enhance preparedness  measures to respond to epidemics and communicable diseases, limit their spread, reduce their effects, and evaluate effectiveness of these measures in protecting health service providers. The agreement also provided for establishing a joint committee to develop action plans and translate the terms of the agreement into actions in accordance with the institutional objectives of both parties.
Commenting on the event, Prof. Mohammed Al-Yahya, Acting Head of the JCDC, who signed the agreement on behalf of JCDC, said: "This agreement will support coordination efforts between public health actors in the Kingdom and strengthen their relationship based on cooperation in various fields of interest. We will soon seek to develop an action plan that represents the roadmap to realize the intended objectives of this agreement."
Dr. Mohannad Al Nsour, Executive Director of EMPHNET, who signed the agreement on its behalf, said: "This agreement establishes an institutional framework for our already established relationship with JCDC and its leadership. It constitutes an effort for further coordination between the various relevant actors. We look forward to a promising future for this cooperation in line with our common goals in responding to the needs of the public health sector in the Kingdom."