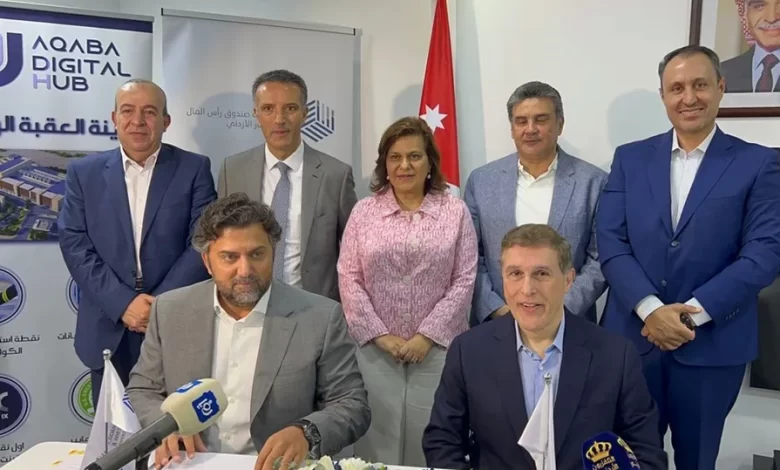 Jordan Daily – Jordan Capital & Investment Fund (JCIF) announced a significant minority investment in Aqaba Digital Hub (ADH), a flagship project capitalizing on the surging demand for digital transformation in Jordan.
The venture encompasses the MENA region's largest carrier-neutral 6MW data centers, boasting a range of services including an open-access submarine cable landing station, cloud services, long-haul telecommunications services, and more.
The deal was formalized during a ceremony at ADH's Aqaba offices. Attendees included Minister of Investment Kholoud Al Saqqaf, ASEZA Chief Commissioner Nayef Al Fayez, and representatives from the private sector. ADH, established in 2017 by Eyad Abu Khorma, already operates regional fiber-optic networks and a carrier-neutral, Uptime-Certified Tier-III data center.
ADH has been selected as the hosting facility and landing station for the Blue Raman submarine cable, connecting Asia to Europe. Situated strategically in Aqaba, ADH's data centers also function as disaster recovery sites for banks in Jordan, enhancing the financial sector's resilience.
The investment agreement between JCIF and ADH is hailed as a crucial step in meeting the growing demand for modern digital transformation services in Jordan. The deal aligns with JCIF's strategy to bolster the Jordanian economy by creating jobs and introducing cutting-edge technologies.
Hani Qadi, chairman of JCIF Management Company, emphasized the importance of ICT as a driver of the modern knowledge-based economy. Aqaba serves as a hub for tech investments, playing a vital role in promoting Jordan globally.
JCIF, wholly owned by 16 Jordanian banks, aims to invest in promising sectors like food and health security, manufacturing, and ICT, contributing to Jordan's economic growth.