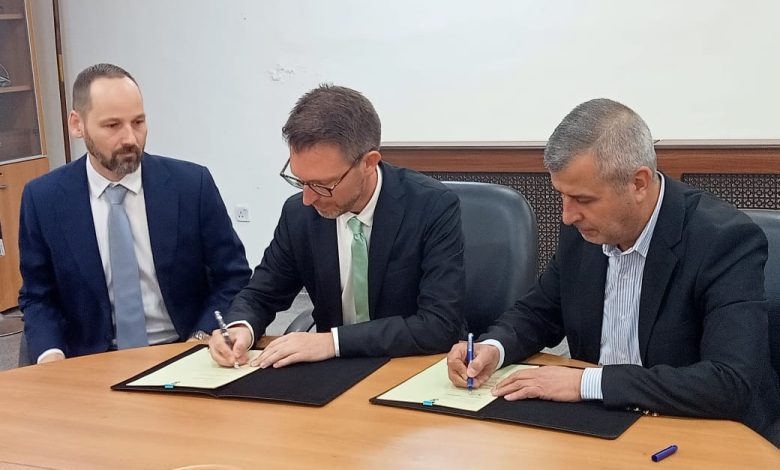 By : JD
---
Jordan Daily – Minister of Energy and Mineral Resources Saleh Al-Kharabsheh signed four memoranda of understanding on Monday with companies interested in developing green hydrogen projects in Jordan.
The memoranda were signed with Kawar Energy, Philadelphia Solar, Amarenco MENA Services Co. DMCC and Enertrag, and aim to prepare feasibility studies for producing green ammonia from renewable energy sources, according to a press release sent to the Jordan Daily.
Kharabsheh said Jordan was proud of its achievements in renewable energy, which accounted for 27% of its electricity generation by the end of last year, and hoped to play a key role in the region for green hydrogen production.
He said Jordan started early to prepare for the new industry and was determined to lead the way in line with its economic modernisation vision (2020-2030) and the ministry's strategy.
He said the memorandum with Kawar Energy aimed to generate 100,000 tonnes of green ammonia annually, while the one with Philadelphia Solar aimed to generate 100-200,000 tonnes. The memorandum with Enertrag aimed to produce about 200,000 tonnes, while Amarenco would produce about one million tonnes.
He added that the ministry would continue to sign more memoranda with companies willing to invest in green hydrogen in Jordan, and expected to sign five more during the COP28 conference in the United Arab Emirates, in addition to three previously signed.
The representatives of the companies said signing the memoranda was a valuable opportunity to invest in a new and promising industry, and highlighted the importance of the new projects in creating jobs for the local community and strengthening the partnership between the public and private sectors in green hydrogen and ammonia.