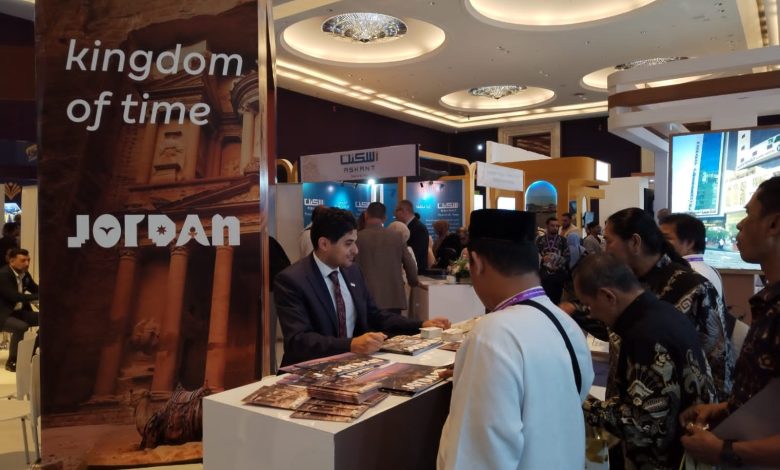 Jordan Daily- The Jordan Tourism Board (JTB) has successfully wrapped up its engagement in the annual 2023 Hajj and Umrah International Tourism Fair, a three-day event held from August 7 to 9 in Indonesia.
The fair witnessed the active involvement of representatives from the Jordanian embassies in Indonesia and Malaysia, in addition to several prominent Jordanian travel and tourism agencies.
In an official statement released on Thursday, JTB's General Director, Abdul Razzaq Arabiyat, underlined that the board had established a Jordanian pavilion as an integral facet of its participation in the fair.
Arabiyat emphasized the paramount importance of the event, highlighting that extensive deliberations were conducted on collaborative strategies between travel and tourism agencies and hotels with a vested interest in religious tourism. These discussions are anticipated to pave the way for a substantial increase in the number of tourists flocking to diverse religious destinations.
Arabiyat also underscored the significance of spotlighting Jordan's religious landmarks in programs tailored for Indonesian tourists.
Running parallel to the JTB's engagement, a ceremony hosted by JTB was inaugurated by Director-General for Indonesia Protocol and Consular Affairs/Chief of State Protocol, Andy Rachmianto. The event aimed to foster discussions on potential areas of collaboration between the two countries' tourism agencies.
The JTB additionally orchestrated a series of workshops and meetings that facilitated fruitful interactions between the tourism sectors of Jordan and Malaysia.
Notably, the JTB pointed out that Indonesia and Malaysia are regarded as premier tourism destinations, exhibiting a lower susceptibility to the political dynamics in the Middle East region. Both countries are substantial and promising markets and are recognized as significant sources of Islamic religious tourism.