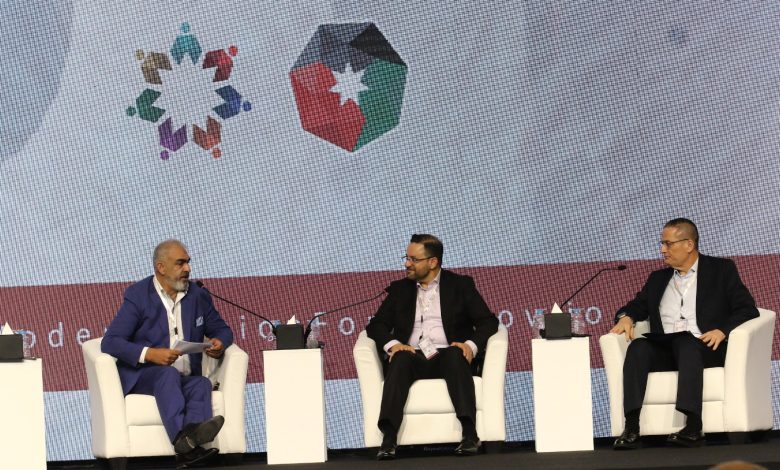 Jordan Daily – Finance Minister Muhammad Ississ stated that the robustness and endurance of the Jordanian economy in the face of worldwide economic challenges underscore the effectiveness of the local economic structure and the wise tactics employed by the nation's financial and monetary authorities.
Speaking at a session on fiscal and monetary policy at the government forum "A Year on Modernization" in the picturesque setting of the Dead Sea, Ississ elucidated how Jordan, in the face of worldwide crises, managed to uphold its "financial risk coefficient", even when neighboring Arab nations witnessed a surge in this indicator.
Ississ emphasized Jordan's success in preserving its financial equilibrium, a cornerstone for shielding the middle class from unpredictable market vicissitudes.
He took pride in mentioning that among Middle Eastern nations that depend on oil imports, only Jordan has been steadfast in maintaining its credit score.
Moreover, Jordan's genuine commitment to reforms was evident from the positive outcomes of the International Monetary Fund's evaluations, which not only facilitated economical financing avenues for the Jordanian government but also witnessed an overwhelming response from global investors.
In a significant move to uplift the financial well-being of its citizens, Ississ spoke about the government's stringent measures against tax dodgers and its decision to alleviate sales tax on a selection of essential goods.
During the same session, the Central Bank's Governor, Adel Sharkas, highlighted the historically lowest levels of "dollarization" in Jordan at 18.3 percent in the year's first half. This, he noted, resonates with the growing trust in the Jordanian dinar and its economy.
With the global economy grappling with unprecedented inflationary pressures, Sharkas emphasized the essence of timely and informed decision-making.
He applauded the Central Bank's adept and foresighted approach in curbing inflation, citing the 2020 inflation rate of 4.2 percent as a testimony to the government's proactive measures.
Sharkas further added that the Central Bank's primary focus remains on ensuring monetary stability, a cornerstone for overarching macroeconomic stability. Supporting the Jordanian dinar with a robust foreign currency reserve, which presently stands at $17.4 billion, is paramount.
Reiterating the robustness of the Jordanian banking system, Sharkas shared that it has been recognized by international bodies for its stability and resilience.
The historical drop in the credit facilities' default rate to a mere 4.5 percent, the lowest in the region, reflects the Central Bank's commitment to global norms, accounting standards, and best practices.
The forum, serving as a confluence for around 600 eminent personalities, will continue its discussions on economic modernization's vision through various sessions.