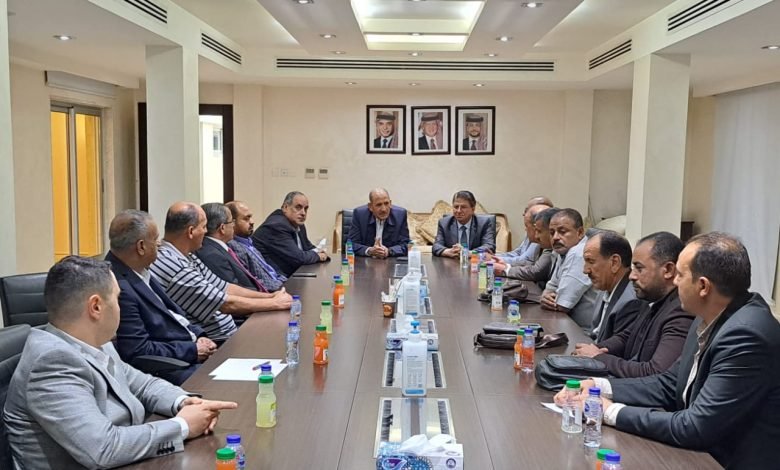 Jordan Daily – Dr. Mohammad Al-Thnaibat, Chairman of the Board of Directors of Jordan Phosphate Mines Company, met with Mohammad Samara , the head of the Egyptian General Trade Union of Miners, Quarries and Salinas Workers  and  the accompanying delegation to underscore the strong collaboration between Jordan and Egypt across various sectors, emphasizing the significance of sharing expertise, particularly in the phosphate fertilizer industry.
During the meeting, which took place at the company's headquarters in Amman and was attended by  Eng. Abdel Wahab Alrowwad  and Mr. Khaled Al-Fanatsa,President of the General Union of Mine Workers , Dr. Al-Thnaibat highlighted the integral role phosphates play in Jordan's investment landscape , stressing the company's commitment to diversifying its investments and boosting the economic sector.
Dr. Al-Thnaibat further elaborated on the company's focus on manufacturing industries and its success in forging partnership agreements with both local and international enterprises to establish multiple factories in Jordan. These endeavors, he noted, have led to increased employment opportunities within the Kingdom and the region.
In terms of global presence, Dr. Al-Thnaibat pointed out the company's significant footprint in the phosphate market. He attributed this success to the quality of Jordanian phosphate and the extensive experience the company brings to the field , offering to make this expertise available to their Egyptian counterparts.
Highlighting the strong relationship between the Phosphate Mines Company and the the General Union of Mine Workers in Jordan , Dr. Al-Thneibat emphasized their shared national interest in advancing the company's growth and success.
Additionally, he underscored the company's commitment to social responsibility, mentioning its involvement in projects aimed at addressing phosphate waste and environmental conservation, such as the gypsum mountain in Aqaba.
Dr. Al-Thnaibat also mentioned the company's membership in international and Arab federations connected to the mining sector, noting that Jordan would host the meetings of the Arab Fertilizer Association later in the year. This underscores the global significance of Jordan and the company in this field.
Eng. Alrowwad , the company's CEO, provided an overview of the company's achievements in production, sales, and profits , outlining the company's projects in manufacturing, which include the establishment of factories for phosphoric acid and aluminum fluoride.
Mohammad Samara, the head of the Egyptian delegation, commended the Jordanian Phosphate Mines Company for its accomplishments in various domains. He clarified that the visit aimed to gain insights into Jordan's experiences in the phosphate and mining industry and explore opportunities for knowledge exchange and cooperation between the two countries and unions.