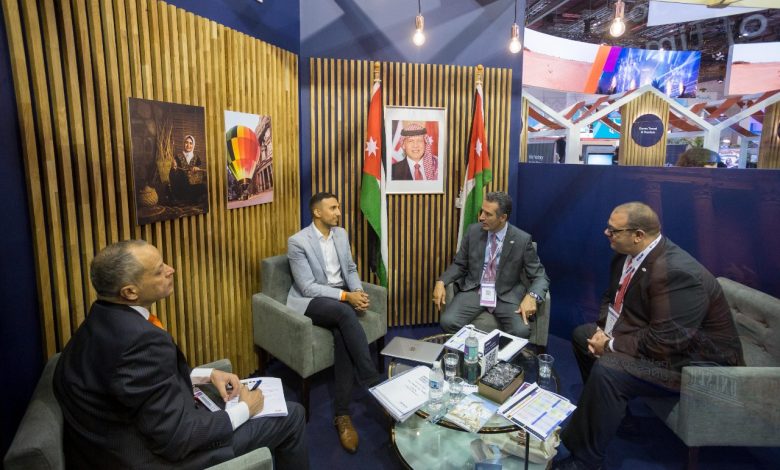 Jordan Daily -Tourism Minister and Jordan Tourism Board (JTB) Chairman Nayef Fayez on Monday attended the inauguration ceremony of the Kingdom's pavilion at the World Travel Market (WTM) in London
The expo, which will continue until Wednesday, saw the participation of local and international stakeholders
The Kingdom's delegation includes representatives from the Aqaba Special Economic Zone Authority, Royal Jordanian Airlines and 14 travel agencies and hotels, according to a JTB statement
Fayez said that the WTM is among the most important exhibitions in London and represents an opportunity to stimulate international tourism to the Kingdom
The minister also highlighted the importance of participation in this event to support Jordan's plans to attract tourists.
He noted that the Kingdom's pavilion this year is characterised by "a new tourist institutional identity that will be announced later during the event"
JTB Managing Director Abdul Razzaq Arabiyat commended the leap in tourism activity from Europe to Jordan. The Kingdom has started to witness the profits of these efforts, Arabiyat said, through the increased tourism movement into the Kingdom, especially after signing the agreements with low-cost airlines
Arabiyat added that the Jordanian pavilion is expected to receive the attention of global media outlets
He stressed the importance of tourism in Jordan and the diversity of its products thanks to the security of the  Kingdom despite challenges imposed by the pandemic
Once they arrived at the event's venue, Fayez and Arabiyat held several press interviews with local and foreign media outlets, and reviewed the Kingdom's procedures to attract foreign tourists.