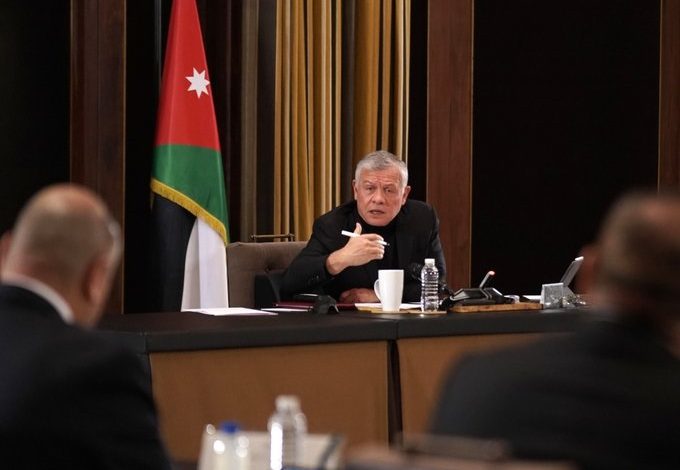 Jordan Daily – His Majesty King Abdullah on Sunday stressed the importance of activating the role of committees at the House of Representatives, noting the immense responsibility before them in the upcoming period.
At a meeting with House Speaker Abdul Karim Dughmi and heads of House committees at Al Husseiniya Palace, King Abdullah underscored the committees' important role in finalising legislation.
His Majesty also highlighted the need for coordination and communication between the House and the government, as well as discussions covering all national issues, pointing out the House's important oversight role.
Serving citizens and alleviating the economic challenges facing them are the goals that all must strive for, the King said.
His Majesty underlined the need to forge ahead with developing public administration, which is key to achieving comprehensive reform and is linked to political and economic reform, noting the attention and dedication required.
Reaffirming that Jordan is resilient and has promising opportunities ahead, the King said this requires stepping up efforts and coordination between state institutions, and bolstering the partnership between the public and the private sectors.
Discussing the need to attract investments and establish projects in the agriculture, energy, and transport sectors, His Majesty emphasised the need to enhance partnerships with Arab countries.
The King also called for focusing on education and health as priority sectors in the state budget.
Turning to the Palestinian cause, His Majesty reiterated Jordan's steadfast position and voiced support for the Palestinians as they seek their just and legitimate rights, noting ongoing coordination and consultation.
For his part, Speaker Dughmi said the House and its committees are keen on developing the mechanisms of parliamentary action, and on undertaking their role efficiently to advance the interests of Jordan and Jordanians.
House committee heads presented ideas and proposals on developing their committees and stepping up coordination with the government, highlighting the role of the House in the efforts underway to advance public administration in Jordan and usher in political and economic progress.
Royal Hashemite Court Chief Yousef Issawi and Director of the Office of His Majesty Jafar Hassan attended the meeting.