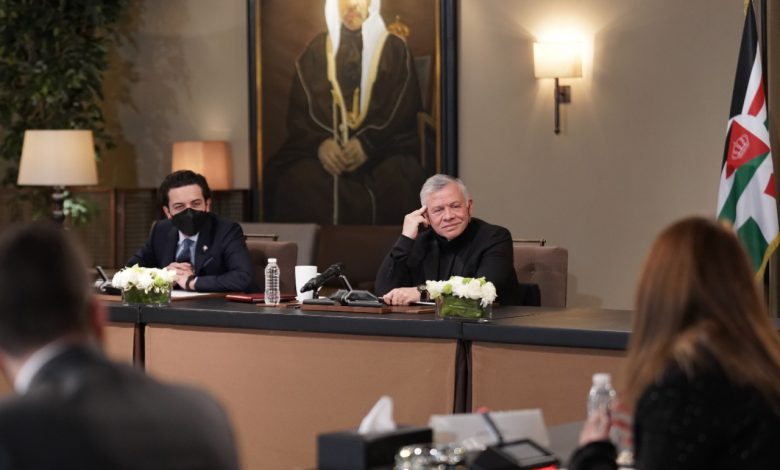 JD – His Majesty King Abdullah on Monday reiterated that youth have an important role in political modernisation, calling for providing safeguards to enable their engagement in political life.
During a meeting at Al Husseiniya Palace with politically and socially active youth from various governorates, King Abdullah reaffirmed support for empowering youth and women to enhance their political and partisan engagement.
At the meeting, attended by His Royal Highness Crown Prince Al Hussein bin Abdullah II, His Majesty called for forming platform-based national parties that address political, economic, and social concerns, and where youth have a strong voice, adding, "we want platform-based parties, not individual-based parties".
The King said there are no concerns regarding moving forward with political reform, stressing the need for integration between political, economic, and administrative modernisation, in order to reflect positively on citizens' lives.
Speaking at the meeting, Crown Prince Al Hussein said alleviating unemployment among youth is a priority, calling for encouraging young people to enrol in vocational training and technical education programmes, which would enable them to join the labour market.
His Royal Highness pointed to a comprehensive strategy to revamp and institutionalise the vocational and technical education sector, which will include developing curricula, improving training programmes, and advancing the role of youth centres across the Kingdom.
For their part, the attendees stressed the importance of educating young people on partisan action mechanisms, as well as encouraging them to accept different opinions and leanings, adding that they look forward to participating actively in forming parties and drafting their platforms.
In addition, they highlighted the role of decentralisation in raising awareness of the impact of participation in decision-making, which reflects positively on the economy and the distribution of development gains.
A number of the attendees spoke about their projects and initiatives in service of the community and in a bid to enhance active citizenship.
Royal Hashemite Court Chief Yousef Issawi attended the meeting.