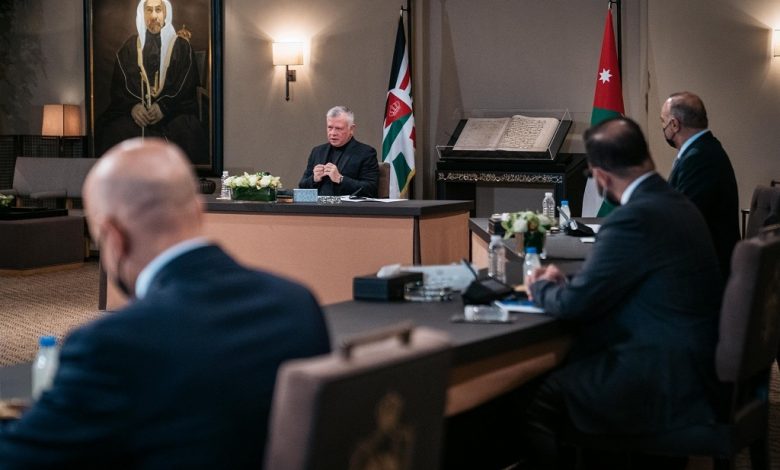 Jordan Daily -His Majesty King Abdullah on Sunday commended the role of the trade sector in the national economy's growth and job creation, as it complements other sectors, especially the industrial sector.
At a meeting with representatives from the trade sector at Al Husseiniya Palace, King Abdullah pointed to economic reform efforts to facilitate doing of business through the development of trade-related legislation and procedures to increase competitiveness.
During the meeting, attended by His Royal Highness Crown Prince Al Hussein bin Abdullah II, His Majesty stressed the importance of the trade sector in securing the strategic stockpile of basic commodities during the COVID-19 pandemic to ensure food security, noting an opportunity to put Jordan on the food security map, in coordination with a number of neighbouring and friendly countries.
For his part, Prime Minister Bisher Khasawneh said the Cabinet has revamped customs tariff regulations to include only four categories, a step that will positively affect the trade sector and enhance consumers' purchasing power.
The customs tariff will be decreased to 5 per cent on most imports that are not locally available, according to Khasawneh, who added that a number of economic establishments now benefit from the unified licensing measures that process applications in one day instead of 15 days.
The prime minister said the labour and environment ministries are working on developing an inspection system that will include nine different oversight entities, in order to unify inspection efforts and reduce overlap.
He added that the trade sector employs nearly 500,000 workers, making up around 40 per cent of the working force in Jordan.
Prime Minister Khasawneh stressed that the private sector is a key partner in economic development, creating jobs, and enhancing competiveness, saying that the government aims to cooperate with the sector.
Praising the government's recent decision to restructure customs tariffs, reducing duties on many goods and limiting tariff categories to four instead of 11, the attendees highlighted the importance of teamwork between the government and the private sector.
Attendees said economic reforms, which include reducing customs duties and unifying procedures at border crossings under the umbrella of the Jordan Customs Department, will streamline procedures, underscoring the need for consistent regulations to further reassure investors.
Speakers at the meeting noted that the trade sector is the largest provider of employment and the biggest contributor to the gross domestic product.
They urged the government to adopt special legislation to support start-ups and small businesses and protect family-owned companies, calling for a partnership between the Central Bank of Jordan and currency exchange businesses, and stressing the need to regulate online marketing and seasonal sale periods.
Director of the Office of His Majesty Jafar Hassan, Finance Minister Mohamad Al Ississ, and Minister of Industry, Trade, and Supply Yousef Shamali attended the meeting.