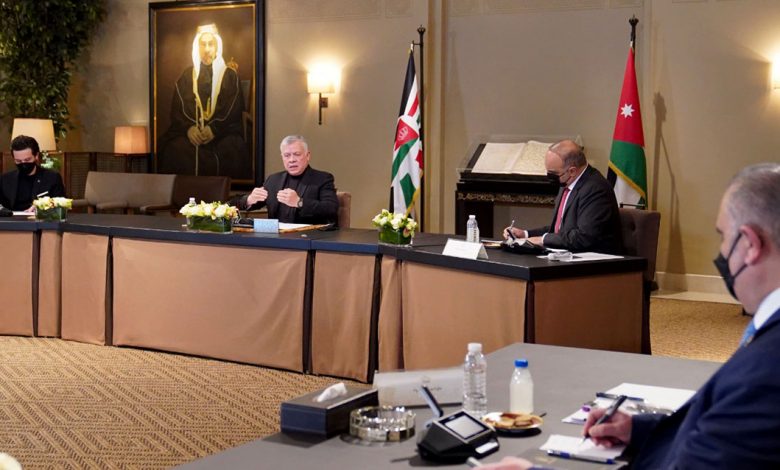 Jordan Daily – His Majesty King Abdullah on Tuesday urged the Committee to Modernise the Public Sector to clearly identify its goals and tie its outcomes to a timeframe for implementation, expressing the desire to see its recommendations in the near future.
During a meeting with the chair and members of the Committee to Modernise the Public Sector at Al Husseiniya Palace, attended by His Royal Highness Crown Prince Al Hussein bin Abdullah II, King Abdullah stressed the need to forge ahead with administrative reform, which should have a tangible impact for citizens.
His Majesty said improving services would bolster trust in the competence and professionalism of the public sector.
The King said reforms must be comprehensive and overarching, with administrative reform concurrently taking place alongside the political and economic reform tracks, to avoid negatively impacting the entire process.
His Majesty highlighted the need for stability in laws and regulations, urging evaluating and utilising prior experiences to advance performance.
For his part, Prime Minister Bisher Khasawneh, who heads the committee, said it convenes regularly and works systematically on developing the public sector's structure, enhancing performance, empowering promising talents, and identifying missteps and rectifying them.
The prime minister added that the committee is also working on improving and automating public services, enhancing cooperation between the public and private sectors, and delivering quality services in vital sectors.
He said the committee has set a six-month timeframe, noting that the first phase entails identifying missteps that were marked in some institutions and ministries, in order to find swift solutions for them.
Prime Minister Khasawneh noted that the committee is working on a long-term strategy tied to a roadmap that could entail merging institutions, commissions, and ministries.
For their part, the committee members highlighted the need to hone the skills and build the capacities of public sector employees by activating the Institute of Public Administration and strengthening its role in training and qualifying public servants.
They noted the value of institutional processes and instilling commitment within the workforce, calling for utilising prior administrative reform experiences and successful examples from the private sector.
Committee members also affirmed the need to activate the role of the Audit Bureau and the Jordan Integrity and Anti-Corruption Commission to deter negative practices in the public sector and encourage positive ones, highlighting the role of accountability and setting clear KPIs in improving the overall quality of public services provided to citizens.
Director of the Office of His Majesty Jafar Hassan attended the meeting.
Last month, the Cabinet decided to form the Committee to Modernise the Public Sector, chaired by the prime minister, with the membership of several ministers, officials, experts in public administration, and private sector figures.