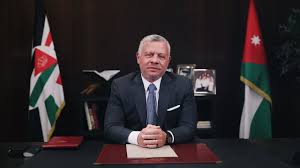 Jordan Daily -His Majesty King Abdullah is scheduled to start a visit to Cyprus and Italy on Friday.
In Nicosia, King Abdullah will hold talks with Cypriot President Nicos Anastasiades on the latest regional and international developments, and ways to enhance cooperation between the two countries in various fields.
The visit will also be marked by the signing of two agreements and a memorandum of understanding between the governments of Jordan and Cyprus.
In Italy's city of Assisi, His Majesty's second stop, the King will deliver a speech at the 2021 Lamp of Peace award ceremony, and will present the prize to United Nations Secretary-General Antonio Guterres.
His Majesty received the award in March 2019 from then German Chancellor Angela Merkel, in recognition of his efforts to promote harmony, interfaith dialogue, and peace in the Middle East and the world, as well as Jordan's efforts, under the King's leadership, in hosting refugees.