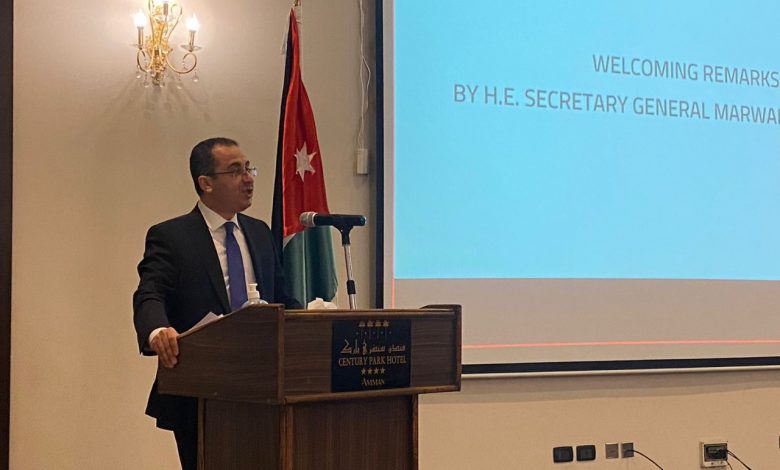 Jordan Daily – Marwan Al-Refai, the Secretary-General of the Ministry of Planning and International Cooperation (MoPIC),  met with representatives of the international community, during the Technical Donors Meeting on the updated Reform Matrix.
The meeting saw the presence of representatives from donors, embassies, and international financing institutions such as the World Bank and European Bank for Construction and Development participated in the meeting, the Ministry stated.
The main objective of the meeting was to present the updated Reform Matrix, the main features of the mid-term review led by the Reform Secretariat at MoPIC which included climate change and environmental mainstreaming across the Reform Matrix, and linkages to the Government Priorities Program.
 Al – Refai, commended on the donors' support in implementing many of the reforms within the Reform Matrix that have been achieved to date through the Reform Support Fund, stressing that the Reform Matrix, launched at the Jordan Growth and Opportunity – The London Initiative which took place in London back in February 2019, is more important and relevant than ever before. Not only due to the impacts of the pandemic, which fuelled the need to expedite the reform process, but also because it sets the grounds for all the Government's strategic direction, represented in its Indicative Executive Plan, and the recently announced Priorities plan.
The Reform Secretariat team at MoPIC presented the updated Reform Matrix and the results of the mid-term review process and consultations with the government and the private sector, including adding the tourism sector pillar and highlighting some important pillars such as agriculture, water and enhancing public sector efficiency and governance.
Furthermore, the team presented briefly a set of most important reforms that have been achieved since 2018, including enacting a law on regulating the general budget and the budget of government unites, enacting Public-Private Partnership law and bylaws, adopting and implementing the ISIC4 classification framework, issuance of the nursery licensing bylaw in 2019 followed by the issuance of Home-based childcare licensing instruction in 2021, endorsing and launching the National Social Protection Strategy (2019 – 2025), the establishment of the Tourism Resilience Fund, approval of the adoption of integrated National Intelligent Transport System, the launch of energy storage and e-mobility assessments, continued implementation of energy efficiency and renewable energy water optimization projects and the launch of Food Security Strategy.
In addition, during the meeting, the Reform Secretariat team discussed how they mainstreamed and integrated the climate change and environment aspect across the Reform Matrix to enhance Jordan's efforts in the transition to a green economy responsive to climate change and support the government in attracting climate finance.
 At the end of the meeting, the participants agreed on the importance of the continued partnership between the international community and the government and the need to work on structuring the partnership through the formation of technical working groups to achieve better results.