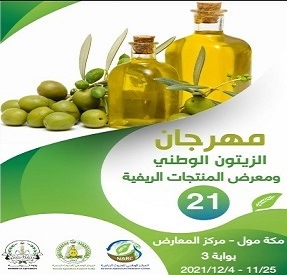 Jordan Daily – Dr. Nizar Haddad, the Director General of National Agricultural Research Center (NARC), clarified that the participation of about 500 exhibitors in the 21st National Olive Festival and the Rural Products' Exhibition will be free of charge with the support provided by NARC partners.
He added that the registration exceeded expectations, and to ensure justice In the selection process, the directors of agricultural directorates in all governorates were delegated to choose eligible participants based on a number of criteria, most importantly the priority of products prepared from oil, olives, and rural products that fall under that. Furthermore, Haddad explained that the productive kitchens will be limited in number to ensure social distancing, which will result in the selection of the best and most distinguished by the choice of directors of agricultural directorates on a competitive basis.
He pointed out that the exhibitors' participation will be confirmed by signing contracts based on the number allowed for the participation of each governorate in the festival. Those contracts will be distributed before the end of this week, so that the allocated areas for participants can be determined in the festival location.
Emphasizing on some of the procedures followed for this year's festival, Dr. Haddad indicated that the criteia will be strict and precise, especially with regard to compliance to health requirements that will be monitored by representatives of the Ministry of Health, the National Center for Security and Crisis Management, the Food and Drugs Administrstion, and NARC. In addition to the use of some smart applications applied by a group of partners that will be responsible for monitoring face masks, measuring body temperatures and disinfection of participants and festival visitors.
The Director of Rural Development and Women Empowerment at the Ministry of Agriculture, Engineer Abeer Al-Soub, confirmed that the registration platform provided important information, according to which participants will be identified whether farmers or exhibitors, and she added that all rural development workers in all governorates were involved in the processes of analyzing the participants' data that was received through the platform.
Engineer Bakr Al-Balawneh, Assistant Secretary General for Extension at the Ministry of Agriculture, confirmed that all participants in the festival will be chosen with absolute transparency by the directors of agricultural directorates, and all directorates will receive copies of participation contracts according to the number allowed for each of them, to be signed to confirm the exhibitors' participation in the festival.