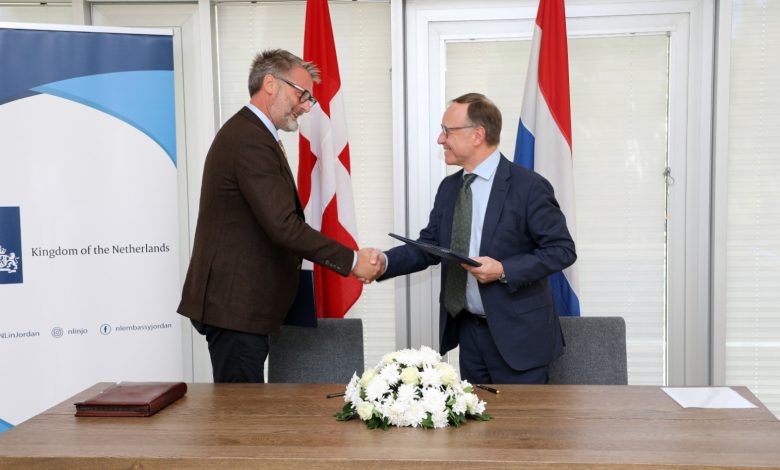 Jordan Daily –  Harry Verweij, Ambassador of the Kingdom of the Netherlands, and Kristoffer Vivike, Ambassador of Denmark to Lebanon and Jordan, signed an 8 million euro contribution of the Netherlands to the 'Regional Development and Protection Program (RDPP)'.
RDPP is a multi-donor program with a total budget of 50 million euros, led by Denmark.  The signing ceremony took place at the Embassy of the Netherlands on Monday.
The RDPP is a substantial effort , primarily led by Denmark, and seeks to provide job opportunities and protection for refugees and vulnerable Jordanian communities, particularly focusing on the youth and women. To tackle unemployment, the program adopts a comprehensive approach that involves collaboration with the private sector, civil society, and local authorities to promote decent and sustainable livelihoods. Protection measures will emphasize women's empowerment, the eradication of child labor, and the promotion of fair working conditions.
In addition, RDPP aims to strengthen the roles of local organizations in supporting refugees and host communities. The program partners primarily with civil society and non-governmental organizations and national structures through direct funding for their activities while supporting the development of their institutional capacities.
During the signing ceremony, Ambassador Verweij emphasized the the importance of this program, stating, "We are pleased to join the RDPP program. Our contribution embodies and combines three key priorities in the Dutch development cooperation program in Jordan: reaching and supporting vulnerable groups, notably refugees, women, and youth, promoting job creation and, last but not least, enhancing the role of local actors in the refugee response."
Ambassador Vivike, said: "RDPP is an important part of Denmark's engagement to support Jordanian civil society organisations to improve livelihoods, protection, and job opportunities for both Jordanians and refugees. We are excited that the Netherlands has joined as a donor to the RDPP program. By joining forces we are able to do even more and to impact positively the lives of refugees and vulnerable host communities in Jordan."
Initiated in 2014, the Regional Development and Protection Program (RDPP) was launched to address the humanitarian and development needs of refugees and host communities near Syria.
In addition to the Netherlands and Denmark, donors for RDPP Phase III include the European Union, Austria, Ireland, Switzerland, and the Czech Republic. Denmark is spearheading the implementation of RDPP III on behalf of these donors, focusing on Jordan and Lebanon.