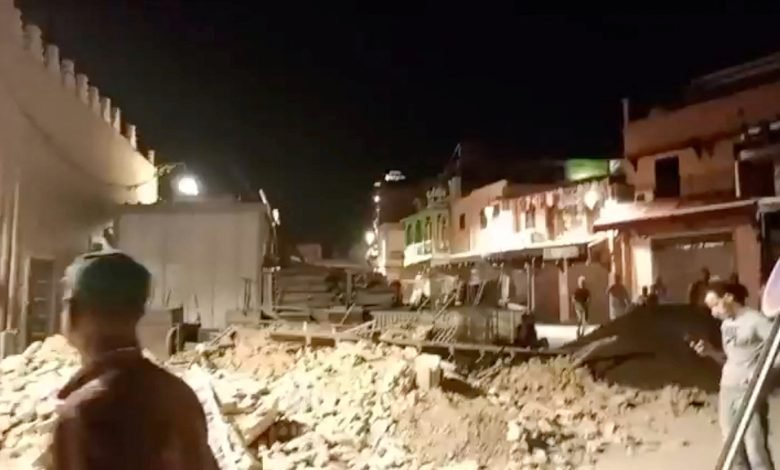 Jordan Daily – A powerful 6.8-magnitude earthquake struck Morocco Friday night, killing more than 600 people and damaging buildings in the historic city of Marrakech in what the United States Geological Survey (USGS) said was the strongest tremor to hit that part of the North African nation in more than a century.
The quake struck in Morocco's High Atlas mountain range shortly after 11 p.m. local time at the relatively shallow depth of 18.5 kilometers (11.4 miles), USGS said, with the epicenter located about 72 kilometers (44.7 miles) southwest of Marrakech, a city of some 840,000 people and a popular tourist destination.
At least 632 people were killed, and 329 others were wounded – including 51 in critical condition, state-run TV Al Aoula reported, citing Morocco's Interior Ministry.
Many spent the night on the streets in multiple cities fearful of aftershocks as a desperate mission to locate those trapped in the rubble got underway. Health authorities also called on people to donate blood to help victims.
Most deaths occurred in mountain areas close to the epicenter that were hard to reach, authorities said, and rescue teams were having difficulty reaching the worst affected areas after roads were damaged, Al Aoula reported.
The Royal Moroccan Armed Forces warned that residents to pay close attention to follow up tremors.
"We remind you of the need to exercise caution and take safety measures due to the risk of aftershocks," the military wrote on X, formerly known as Twitter.
The USGS said Friday night's quake was unusually strong for that part of Morocco.
"Earthquakes of this size in the region are uncommon, but not unexpected. Since 1900, there have been no earthquakes M6 (magnitude 6) and larger within 500 km of this earthquake, and only 9 M5 (magnitude 5) and larger earthquakes," USGS said.
The US body predicted that "significant damage is likely and the disaster is potentially widespread", noting that many people in the area reside in structures that are "highly vulnerable to earthquake shaking".
CNN