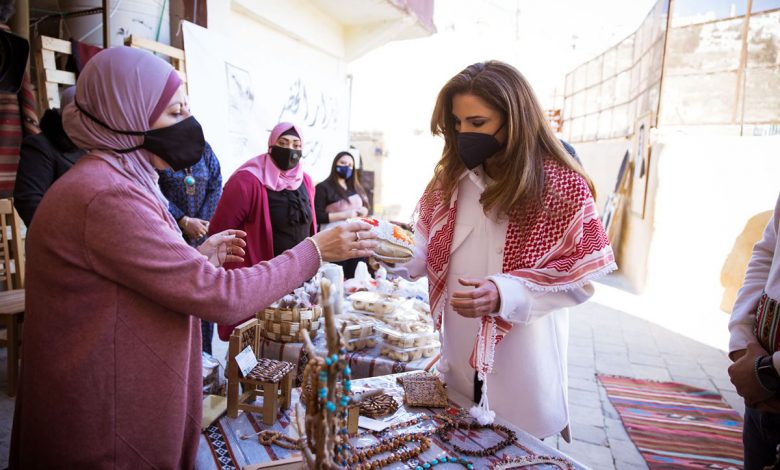 Jordan Daily – Her Majesty Queen Rania Al Abdullah met with founders of several youth-led initiatives during a tour of Al Khader Street in Al Salt on Monday, and learned about their efforts to preserve the city's cultural heritage, and offer training and awareness programs on issues relevant to the community.
While in Al Salt, the Queen visited Al Khader Center, stopping by the area used to host the center's Friday bazaar. Considered the main initiative, Al Khader Bazaar offers local artisans and producers the opportunity to showcase their handmade crafts and goods, including accessories, embroideries, pottery, and traditional food items.
In partnership with the area's seasoned business owners and artisans, the center's affordable training programs aim to help youth in Al Salt establish their own projects, while also preserving local craftsmanship by passing down the expertise of older generations.
Her majesty also met with the center's founding members Saif Jaghbeer and Yazeed Kloub, and a number of supervisors and trainers, who briefed her on the center's endeavors and its future plans.
In a discussion with the attendees, Queen Rania commended their work and stressed the role of persistence and faith in one's abilities in achieving success. She also noted that the trust they have built with their community is a result of their hard work and commitment.