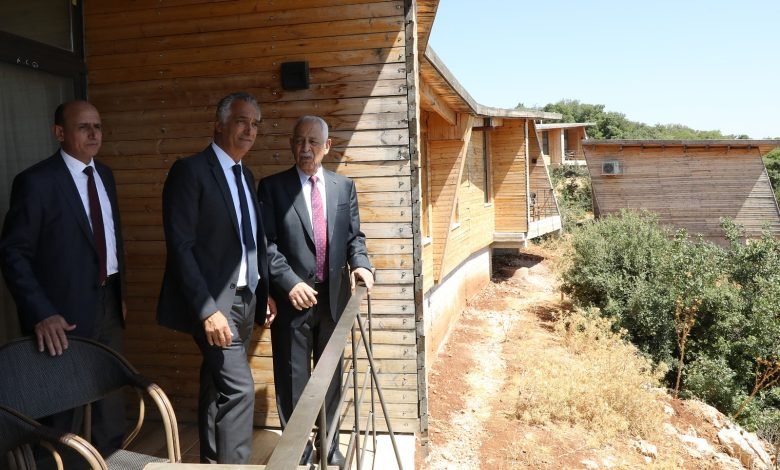 Jordan Daily – On the sidelines of His Majesty King Abdullah's visit to Ajloun, Royal Court Chief Yousef Issawi on Tuesday inaugurated the eco-lodge and adventure games projects, which were implemented under Royal initiatives in the Ajloun Forest Reserve.
The implementation of the two projects is part of Royal directives to develop tourism projects in the governorate to promote tourism and environmental conservation, especially since the nature and terrain of the region are among the most important tourist attractions, the Jordan News Agency, Petra, reported.
The two projects, which were fully provided with all necessary equipment and operational personnel, seek to develop the infrastructure of the eco-tourism projects in the reserve and improve the level of services offered.
The initiative also aims to develop the concept of adventure tourism by providing recreational activities for all age groups, creating permanent and temporary jobs for the governorate residents, increasing the quality of services provided to visitors, ensuring the environmental and financial sustainability of the reserve and its surroundings and empowering local communities.
Issawi, who is also head of the follow-up committee for the implementation of Royal initiatives, toured the eco-lodge that was established in cooperation with the Royal Scientific Society and includes 15 new cottages, raising the total number of cottages in the reserve to 38.
The capacity of the project increased to accommodate 150 visitors per night, which led to attracting more local and international tourists and events.
Issawi also toured the adventure games project, which consists of a field dedicated to challenges, including climbing walls, an obstacle course, bicycle trails and various games for all age groups.
In press remarks, the Royal Court chief said that His Majesty continuously calls for implementing model tourist projects that take into consideration the features of every area in a way that contributes to providing jobs and enabling households to establish ventures that can improve their living conditions.