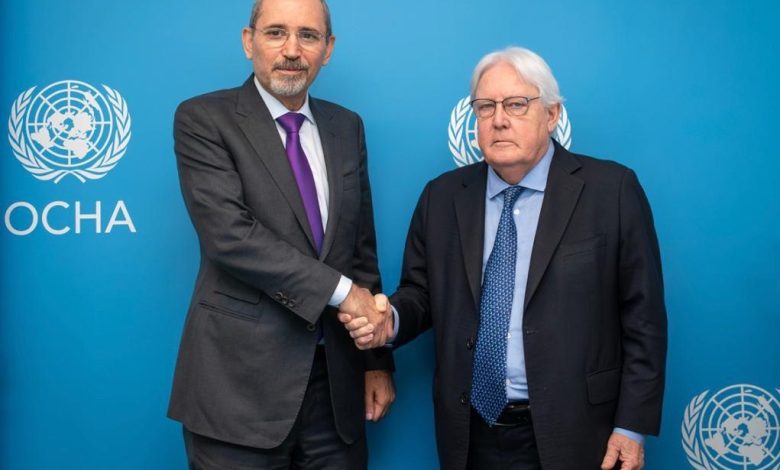 Jordan Daily – Deputy Prime Minister and Minister of Foreign Affairs and Expatriates, Ayman Safadi, continued his discussions with several international counterparts and officials during the 78th session of the United Nations General Assembly in New York.
Safadi, in a meeting with his Belgian counterpart, Hadja Lahbib, affirmed their commitment to strengthening the strategic partnership between their nations across various domains.
Separately, he engaged in discussions with his Cypriot and Greek counterparts, Constantinos Kombos and George Gerapetritis, addressing topics such as bilateral relations, tripartite cooperation mechanisms, the refugee crisis, and a spectrum of global and regional issues of mutual concern.
During his visit to New York, Safadi participated in a symposium hosted by the Middle East Institute, delving into regional matters and initiatives aimed at resolving crises in the Middle East, as part of the 2023 Middle East and North Africa Forum.
Furthermore, Safadi held meetings with Bulgarian Foreign Minister Mariya Gabriel, Polish Foreign Minister Zbigniew Rau, and Finnish Foreign Minister Elina Valtonen, with discussions primarily focusing on the latest developments in the Middle East, prominently including the Palestinian cause.
Safadi also convened with UN Under-Secretary-General for Humanitarian Affairs and Emergency Relief Coordinator, Martin Griffiths, to deliberate on ongoing efforts to resolve the Syrian crisis, collaborative strategies for addressing challenges related to Syrian asylum seekers, and the most recent regional and international developments.