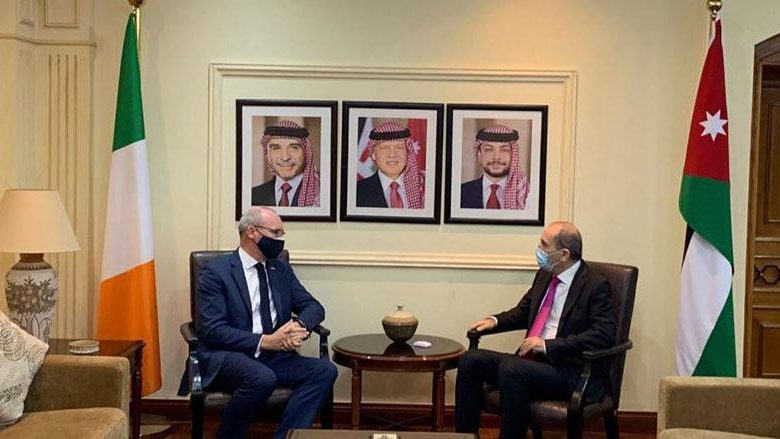 Jordan Daily – Deputy Prime Minister and Minister of Foreign Affairs and Expatriates Ayman Safadi , on Thursday held talks with Irish Foreign Minister Simon Coveney focused on bilateral ties and the latest developments in the Middle East region.
The two ministers agreed to form teamwork to develop a program to activate cooperation in several issues in food security, water, education, tourism, technology, culture in the coming weeks.
Safadi valued Ireland's "unwavering support of the legitimate rights of the Palestinian people, and its continuous support for UNRWA, expressing appreciation for Ireland's announcement of providing additional donations on Wednesday.
Safadi added, Today's meeting reviewed ways to enhance bilateral relations in various fields, considering the official opening of the Irish embassy in the Kingdom shows the strong ties that bring the two countries together.
Coveney, who is also the Irish defense minister, stressed that Jordan is a strategic partner of Ireland in the region and that his country is seeking to improve relations with the Kingdom at various levels, pointing out that the volume of trade exchange has doubled during this period, and expected to reach more than $300 million.
He affirmed his country's desire to be part of the efforts to find solutions to regional crises.
Coveney said that Ireland on Wednesday announced increasing its financial support for UNRWA ,nine million euros this year and it will further increase the aid before the end of this year .
Coveney , Safadi jointly opening the new Irish Embassy in Amman 
Photo / Irish Embassy Jordan – Twitter .