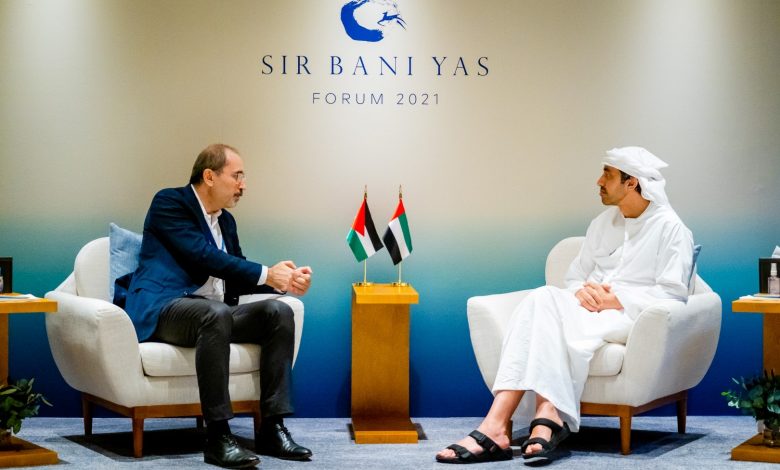 Jordan Daily – Minister of Foreign Affairs and Expatriates, Ayman Safadi on Saturday met with a number of foreign ministers from the United Arab Emirates, Iraq, Egypt, India, Greece and Cyprus.
On sidelines of the 12th Sir Bani Yas Forum, Safadi and the United Arab Emirates Minister of Foreign Affairs and International Cooperation Sheikh Abdullah bin Zayed Al Nahyan reviewed ways of enhancing relations and the latest regional updates, stressing the continuation of cementing cooperation in various fields and furthering coordination on mutual and regional issues, under the directives of the two countries' leaders.
Safadi also held talks with his Iraqi counterpart Fuad Hussein, in which he stressed Jordan's full support for Iraq in the face of all challenges, and for the Iraqi government's efforts to enhance security and stability and to meet the aspirations of its people.
He renewed the Kingdom's condemnation of the recent failed assassination attempt against the Iraqi Prime Minister Mustafa Al-Kadhimi, stressing that Iraq's security and stability are the cornerstone of regional security.
For his part, the Iraqi Foreign Minister lauded Jordan's support, underscoring commitment to expand cooperation in various fields.
A three-way meeting between the foreign ministers of Jordan, Iraq and Egypt, tackled the steps taken to implement a cooperation mechanism as part of the outcomes of the tripartite summits, namely the Baghdad summit held last June. The three ministers underlined commitment to carrying out the agreed-upon projects and propping up cooperation to serve mutual interests.
In a meeting with the Egyptian Foreign Minister Fuad Hussein, Greek Foreign Minister Nikos Dendias, and Cypriot Foreign Minister Nikos Christodoulides, Safadi discussed coordinating efforts to increase cooperation on trade, economic, investment, tourism and regional issues, in context of the Jordan-Cyprus-Greece and the Egypt-Greece-Cyprus tripartites coordination mechanisms.
During a separate meeting, Safadi and Subrahmanyam Jaishankar, the Indian Minister of External Affairs, discussed developing bilateral relations. The two ministers agreed to hold comprehensive and in-depth talks in the upcoming months on boosting cooperation in the economic, investment and trade fields.
Safadi also discussed developments with Joanna Wronecka, the UN Special Coordinator for Lebanon, stressing the importance of protecting Lebanon's security and stability, in addition to highlighting Jordan's solidarity with Lebanon to overcome the ongoing crisis.