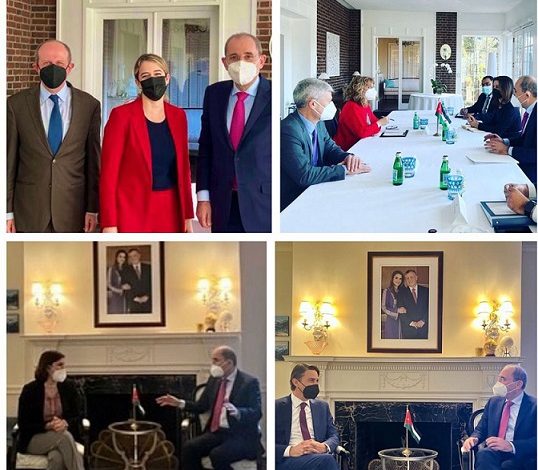 Jordan Daily – Minister of Foreign Affairs and Expatriates, Ayman Safadi, held meetings with a number of officials in the US State Department on ways to enhance Jordan-US ties and promoting strategic partnership in various fields , Jordan News Agency , Petra reported .
Talks focused on the new Memorandum of Understanding (MoU) on the strategic partnership between the two countries, which frames the US support for the Kingdom to replace the current MoU, which expires at the end of September 2022.
Safadi met with Assistant Secretary of State for Near Eastern Affairs Yael Lambert, Director of the State Department's Bureau of Foreign Aid Dafna Rand, Deputy Assistant Secretary for Assistance Coordination and Press and Public Diplomacy at the State Department's Bureau for Near Eastern Affairs, Chris Hodges, the State Department's Senior Advisor for Global Energy Security Amos Hochstein and U.S. Department of State's Senior Bureau Official for Population, Refugees, and Migration Nancy Jackson.
In the meetings, Safadi and the US officials emphasized the centrality of the Jordan-US partnership, and agreed on consolidating it to serve common interests.
Safadi lauded the US support to Jordan, and stressed its importance in helping the Kingdom to support the development process and address economic challenges, including those resulting from regional conditions, the burden of refugees, and the Covid-19 pandemic.
Under to the current MoU, the United States has provided Jordan with annual support over the past four years, amounted to about $1.65 billion in 2021.
Talks also dealt with regional developments, especially efforts to find a real horizon for achieving a just and lasting peace on the basis of the two-state solution, maintaining comprehensive calm in the occupied Palestinian territories, and supporting the United Nations Relief and Works Agency for Palestine Refugees (UNRWA), in addition to efforts to reach a political solution to the Syrian crisis and supporting Iraq.
Safadi thanked the United States for announcing an additional $99 million in financial support to UNRWA late last month, in addition to the $318 million it provided last year.
The meetings also discussed joint efforts in combating terrorism, and a number of regional and international issues of common interest.
Enhancing cooperation in environmental protection issues, addressing climate change and clean energy, including the two projects to supply Lebanon with Egyptian gas and Jordanian electricity, were also discussed.
The foreign minister and the US officials stressed on the continuation of coordination and cooperation in order to resolve regional crises, create economic opportunities and achieve security and stability.
In addition, Safadi also met with a number of heads and leaders of US Jewish organizations in Washington.
On Monday , Safadi started a working visit to the United States, during which he will meet with US Secretary of State Anthony Blinken, a number of senior US administration officials from the State Department and the National Security Council, members of the House and Senate, think tanks, and media outlets.