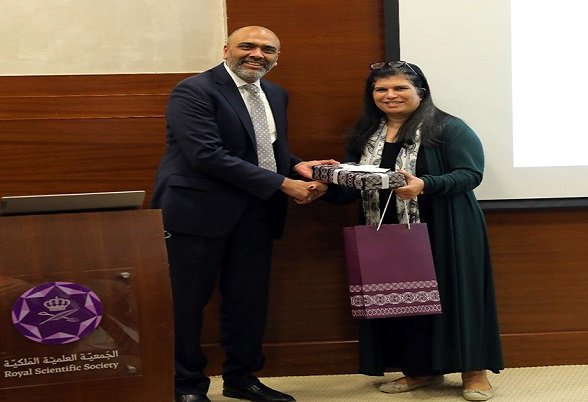 Jordan Daily – A delegation from the American Association for the Advancement of Science (AAAS), led by CEO Dr. Sudip Parikh, was hosted by the Royal Scientific Society (RSS) in Jordan.
In a statement obtained by the Jordan Daily , the delegation had an audience with HRH Prince El Hassan bin Talal, Chairman of the RSS, at Majlis El Hassan, where Prince El Hassan shared his insights on key themes in science diplomacy.
During the meeting, Prince El Hassan stressed the importance of community engagement and grassroots collaboration, recognizing that local communities often hold solutions to complex challenges.
He also addressed geopolitical challenges, calling for the West Asia and North Africa (WANA) region to adopt a more proactive role instead of solely serving as a disaster relief region. This shift, he noted, would enable a more anticipatory response to regional challenges and opportunities, fostering stability and development.
HRH Princess Sumaya, in welcoming the AAAS delegation to Jordan, highlighted the successful collaboration between AAAS and Jordan on various international initiatives, emphasizing the importance of building bridges through scientific cooperation.
As part of the visit, Dr. Sudip Parikh delivered a lecture on 'Science Diplomacy and the Power of Science to Build Bridges' to academics, diplomats, and students at Princess Sumaya University for Technology (PSUT). Princess Sumaya noted that Science Diplomacy offers mechanisms for engagement that can break down barriers and promote science for the common good.
Dr. Sudip Parikh currently serves as the 19th CEO of the AAAS, an organization founded in 1848 to advance science, engineering, and innovation globally.
The AAAS delegation's visit included tours of various scientific institutions in Jordan, including SESAME, the Jordan National Metrology Institute, and the Automated Chemical Laboratories.
They also visited the Jordan Institute of Diplomacy and Princess Sumaya University for Technology, where they met with university officials and discussed the institution's academic and research achievements and its commitment to international cooperation and engagement.
The delegation had the opportunity to view student projects aimed at promoting leadership and innovation.