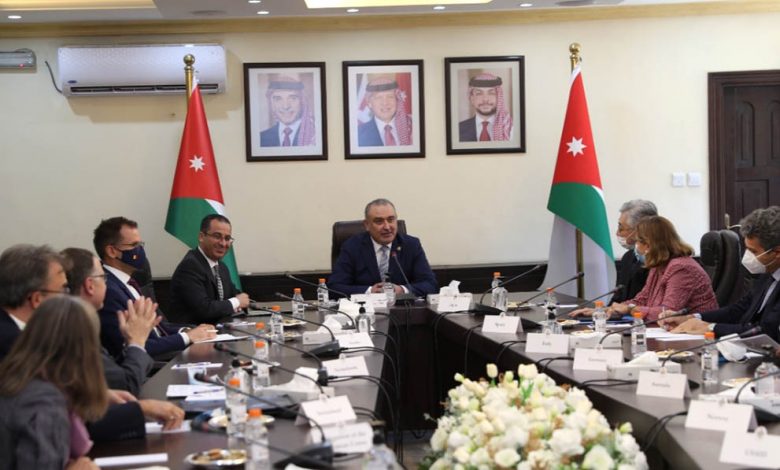 Jordan Daily – Minister of Planning and International Cooperation Nasser Shraideh on Saturday indicated the consequences on Jordan as a result of the Syrian crisis and hosting of more than 1.3 million Syrian refugees, which has exacerbated the burdens on the public budget, host communities and public services.
Briefing a number of ambassadors and representatives of donor countries on the economic challenges and burdens facing the Kingdom, the minister urged the international community to finance the Jordan Response Plan (JRP) for the Syrian crisis.
Shraideh stressed the importance of increasing and sustaining the international community's support to Jordan , according to a statement issued by the Ministry .
Shraideh also urged the international community to assume its responsibilities towards the countries hosting Syrian refugees, specifically Jordan, in light of the "noticeable" decline in the amount of donors' assistance provided to Jordan Response Plan (JRP) during the past two years.
He also called on the international community to provide "sufficient" funding to support the JRP 2021, which was prepared and updated through a participatory effort among all relevant ministries and institutions, United Nations organizations, donor countries, and non-governmental bodies.
The JRP 2021 includes a new component of the plan to deal with Covid-19 pandemic, as the plan's financial needs nearly stand at $2.4 billion, which aim to meet the needs of refugees and host communities, as well as to enable the Jordanian government to continue providing basic services to Syrian refugees, according to Shraideh.
The minister said the international community's support to the Kingdom at this time is an "urgent and utmost" necessity to enable Jordan continue to play the humanitarian role on behalf of the international community towards the Syrian refugees residing on its territory.
For their part, the participants in the meeting lauded Jordan's "distinguished" role under the leadership of His Majesty King Abdullah II towards the refugees, adding that Jordan has provided " decent" livelihoods for them despite the scarcity of available resources.
The participants stressed their continued efforts to provide financial support to the Jordanian government in this framework.
They also stressed the importance of holding more meetings to crystallize a clear vision on how to deal with this crisis in the future.