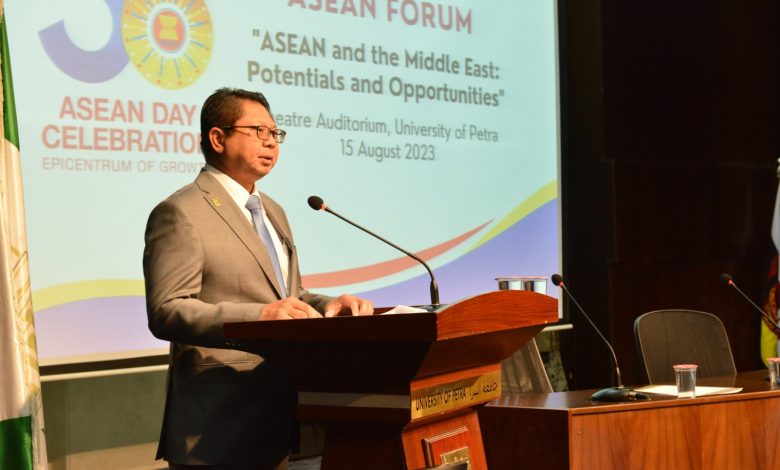 Jordan Daily – The ASEAN Committee in Amman (ACA) and the University of Petra co-hosted an ASEAN Forum "ASEAN and the Middle East: Potential and Opportunities" at the University of Petra in Amman. The event was organized on the occasion of the 56th ASEAN Day celebrated on 8 August annually.
The Malaysian Ambassador and Chairman of ACA, Mohamad Nasri Abdul Rahman told the media "2023 is a special year for ASEAN as we celebrate 56 years of unity and togetherness despite our diversity in political, economic progress and socio-cultural spheres".
"Since its establishment in 1967, ASEAN has expanded from an organization with a focus on political agenda to economic prosperity and stability as well as to building a caring and sharing society which is sustainable, inclusive and harmonious", he added in a statement sent to Jordan Daily.
The Ambassador said, "against the backdrop of the Cold War and regional disputes still fresh in mind, ASEAN is today has become a successful and strategic organization with its 1967 Bangkok Declaration and the ASEAN Charter and the subsequent documents form the basis of engagement and cooperation among the ten Member States. Its unique diplomatic engagement known as the ASEAN Way has helped the Member States to maintain the peace, security and stability of the Southeast Asian region"
"ASEAN has also developed friendly relations and mutual beneficial dialogue cooperation and partnership with its external partners as well as the respective host countries and international organisations where the ASEAN Committees in Third Country are based. Thus, the convening of the ASEAN Forum provided an avenue for ASEAN to interact and engage with Jordan and the Middle East in line with the aims of the ASEAN Community Vision 2025 to effectively promote ASEAN and cooperation between ASEAN and the host country and the region", he added.
"The ACA has established cooperation with the University of Petra and is interested in engaging the University in various fields of cooperation in addition to higher education and scientific research. The ACA also welcomes cooperation with other Jordanian stakeholders that could contribute towards effective partnerships between the two regions", he told the media.
The ACA, established in accordance with Article 43 of the ASEAN Charter, comprises of five ASEAN Ambassadors based in Jordan namely Brunei Darussalam, Indonesia, Malaysia, the Philippines and Thailand. The ACA has been actively engaging various Jordan's stakeholders, institutions and business entities in its efforts to promote ASEAN's interests, identity and awareness in the Kingdom, while coordinating and facilitating ASEAN matters with Jordan.
Images / Malaysian Embassy in Amman