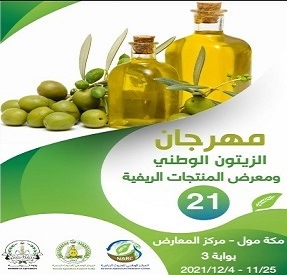 Jordan Daily – The Director General of  National Agricultural Research Center (NARC), Dr. Nizar Haddad, stated that the 21st National Olive Festival & Rural Products Exhibition is a real destination for local and international partners, diplomatic organizations and guests of Jordan from all over the world, where they can find Jordanian rural products.
He added that this festival is considered the largest marketing platform in the Jordanian history of exhibitions, mainly destined to promote and sell about 25% of olive oil produced on the National level.
The festival will be held during the period Nov 25 – Dec 4, 2021; at the Exhibition Hall, Mecca Mall, Gate No. 3, with the participation of more than 500 exhibitors and participants.
Haddad indicated that the festival will be held on an area of ​​11000 Square meters in order to increase the number of participants, in addition to ensure health requirements under the supervision of the Ministry of Health and the National Center for Security and Crisis Management.