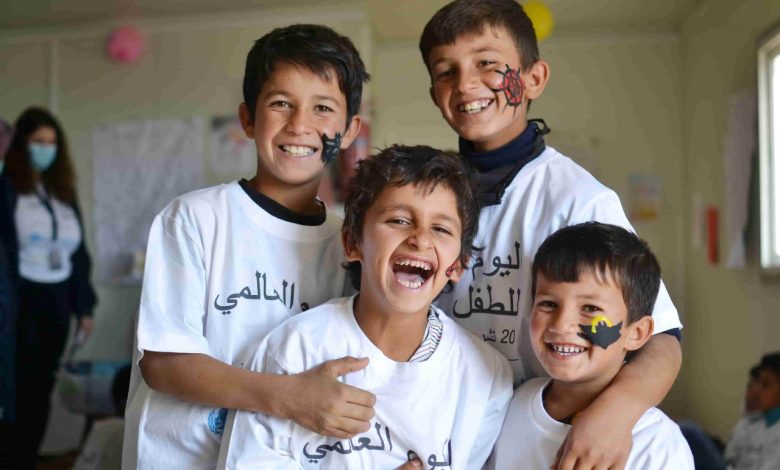 Jordan Daily — Waleh Dam has gone blue for World Children's Day – UNICEF's global day of action for children celebrated every year on 20th November – to bring attention to the child rights crisis that is climate change, especially the impact of water scarcity on children and youth in Jordan.
Children and young people all over the country are joining their peers worldwide to speak out on the issues affecting their lives, from climate change and inequality, to mental health and education disruptions during the COVID-19 pandemic, and calling on adults to build back a better world, especially for the most vulnerable children.
"The climate crisis and water scarcity pose an unprecedented threat to the rights of all children and youth in Jordan. This World Children's Day they are delivering a clear message to adults – we must act with urgency to protect their futures, Tanya Chapuisat, Representative, UNICEF Jordan said in a statement.
For World Children's Day, UNICEF also unveiled the Big Changes Start Small mural in Amman focusing on water scarcity in Jordan. The mural created by young artist Batool Edais, aims to inspire children and youth to hold adults accountable for creating a safe and sustainable future and take an active role in creating and implementing the solutions needed to solve the climate crisis.
Also, to mark the day, events and festivities took place across the country with children and youth in UNICEF-supported Makani centers, while the iconic heritage site Petra joined UNICEF's global Go Blue campaign in support of child rights.
World Children's Day aims to raise awareness for the millions of children that are denied their right to adequate health care, nutrition, education and protection, and to elevate young people's voices as critical to any discussions about their future.