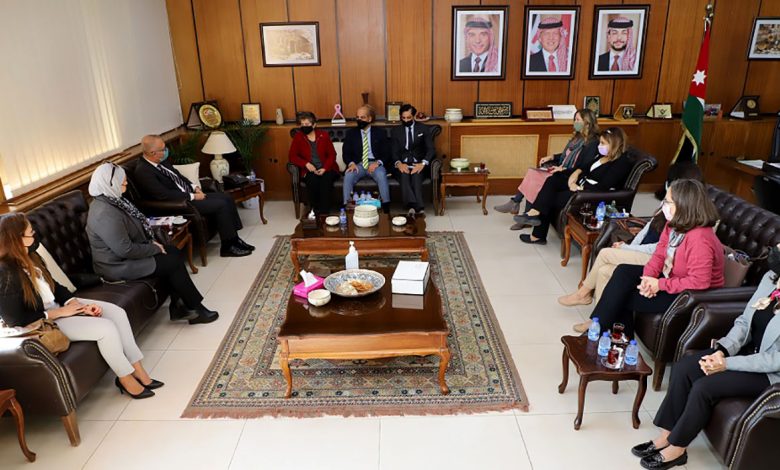 Jordan Daily – President of Yarmouk University, Islam Massad, stressed the importance of the USAID Pre-service Teacher Education program in Jordan in light of the Covid-19 pandemic which affected various sectors, including the education sector.
In a meeting with a USAID delegation on Tuesday, Massad said training and qualifying teachers to practice the teaching profession in an efficient and trustworthy manner has become a very important matter to ensure the future of generations of school students.
Massad added that distinguished scientific and academic competencies of the university's Faculty of Education have proven their worth in various educational sectors, which makes them a fertile environment for incubating this program, lauding the college administration's efforts to ensure the optimal implementation of the program.
The delegation was briefed on the progress of the USAID Pre-service Teacher Education program, the university is implementing with the support of USAID in partnership with the Ministry of Education and Higher Education, the Queen Rania Teacher Academy, the Civil Service Bureau, and the Jordanian Accreditation and Quality Assurance Commission for Higher Education Institutions.
The delegation, which included the Director of Office of Education at USAID, Mariella Ruiz-Rodriguez, and Chief of Party for Pre-Service Teacher Education in Jordan, Cameron Mirza, commended the prestigious academic reputation of Yarmouk University, and the distinguished level and procedures carried out by the university, represented by the Faculty of Education, to implement the "Pre-Service Teacher Education" program to achieve the desired goals.
The delegation members, accompanied by the University President, Vice President for Academic Affairs, Muwaffaq Alomoush, and Dean of the Faculty of Education, Nawaf Shatnawi, toured the classrooms designated for the USAID program and were briefed on its progress.
The delegation listened to the student's opinions and impressions on the program and its importance, as well as the knowledge and skills it provided to them about classroom management and teaching methods in the classroom.