English
Workshops on Multifunctional Olive Systems and Grazed woodlands concluded at NARC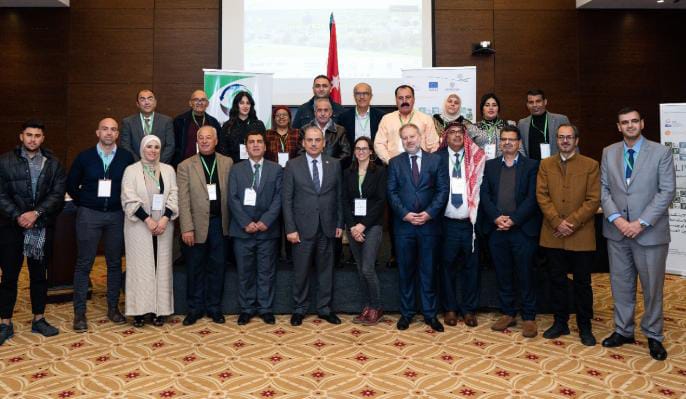 Jordan Daily – Under the auspices of the Director General Dr. Nizar Haddad, the National Agricultural Research Centre (NARC) concluded two workshops in Amman, on Multifunctional Olive Systems and Grazed woodlands in collaboration with the Regional Forest Agency for Land and Environment of Sardinia (FoReSTAS) and the LIVINGAGRO project consortium.
Haddad said that these two workshops highlight growing socio-economic importance of agroforestry in olive groves and grazed woodlands, stressing that forest rehabilitation in Jordan is a successful solution to climate challenges, as well as the environmental and social impact of forests under limited natural resources and environmental constraints.
Dr. Salam Ayoub, Director of Horticulture Dept. at NARC, stated that these workshops, provide a unique opportunity for economic stakeholders, decision makers and those interested in scientific research to take advantage of LIVINGAGRO project achievements in this area and to learn about the latest high-tech research and innovations that will help them improve and develop their business and lay the basis for external cooperation relations.
On the other hand, the organizers of the event invited distinguished research guests to share their experiences and present the latest technologies with participants, while an open panel session was organized with the management of specialized panelist, aimed at guiding participants towards best practices in order to maximize profitability, sustainability and biodiversity with limited resources and environmental constraints. The last part of the workshops includes individual meetings to reconcile relevant stakeholders with innovators and representatives of the LIVINGAGRO, allowing participants to have more in-depth discussions with the sector's experts.
It is worth to mention that the LIVINGAGRO project is funded by the European Union (EU) through the ENI CBC Med 2014-2020 program, implemented in Italy, Greece, Lebanon and Jordan.
The project aims to support education, research and development, innovation and technology transfer, including sharing research results, through the establishment of two living labs, one for multifunctional olive systems (living lab.1) and the other for grazed woodland (living lab.2).