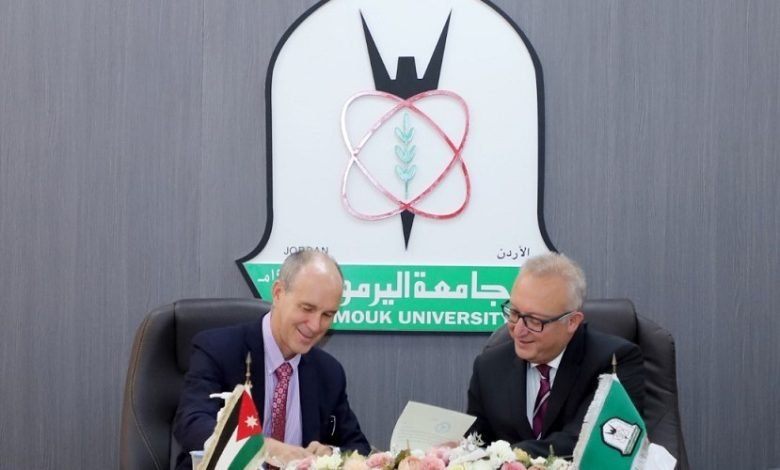 Jordan Daily – President of Yarmouk University (YU), Dr. Islam Massad, engaged in discussions on Wednesday with Edward Bardos, Executive Director of the Jordanian-American Commission for Educational Exchange (JACEE) – Fulbright Jordan, and Jed Dornberg from the US Embassy in Amman. The talks centered around strategies for bolstering collaborative efforts.
During the meeting, Massad underscored the university's strategic aim of augmenting the count of scholarship beneficiaries pursuing doctoral degrees at esteemed international institutions, notably within the United States. This focus aligns with YU's overarching objectives for the forthcoming half-decade, encompassing a diverse array of humanitarian and scientific disciplines. Special emphasis is placed on fields such as engineering, information technology, humanities, social sciences, and nursing.
Massad emphasized YU's deep commitment to equipping its students with the requisite proficiencies to excel in their postgraduate pursuits at prestigious global universities and effectively transition into the professional realm.
The President provided an overview of ongoing collaborative initiatives between YU and prominent American universities on the global stage.
Bardos expressed Fulbright's resolute dedication to identifying avenues for scholarly and academic cooperation between YU and a spectrum of American academic institutions, in domains of mutual interest. This collaborative drive contributes substantively to amplifying YU's educational and scientific advancement.
In relation to the Rawabit: U.S.-Jordanian University Cooperation Network, Bardos elucidated the initiative's objective of enhancing scholarly discourse among faculty members from Jordanian and U.S. universities. It achieves this by furnishing essential support for faculty members' travels, thereby fostering collaborative research undertakings.
Bardos extended an invitation to YU to partner with Fulbright in launching the "Fulbright Advisor Project at the University." This initiative would facilitate personalized counseling and guidance for students and staff, orchestrated by a designated YU-based Fulbright advisor who is a member of the university's faculty.