English
CPF, UNICEF partner to empower Jordanian youths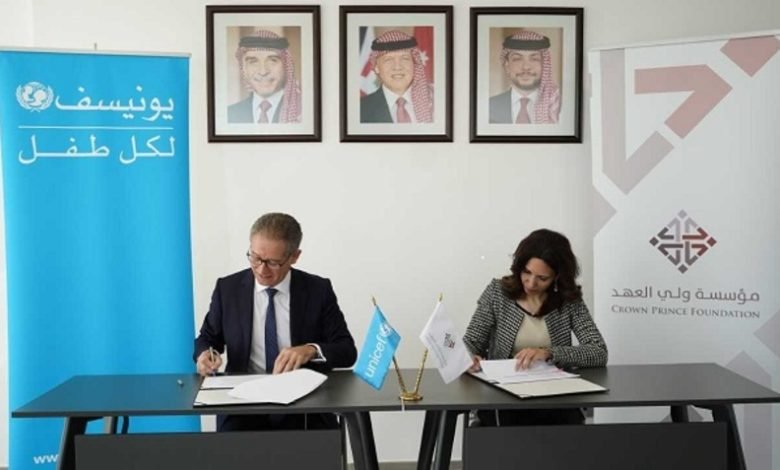 Jordan Dailly– The Crown Prince Foundation (CPF) and UNICEF have renewed their partnership for two years to continue empowering adolescents and youth with opportunities to engage and participate in society.
 In a statement, Under the new agreement, signed Monday by Dr. Tamam Mango, CEO of CPF, and Philippe Duamelle, UNICEF Representative to Jordan, 100,000 young people, living in all governorates of Jordan, will be supported to engage in volunteering opportunities through the scaling up of the National Volunteering and Engagement Platform 'Nahno'.
Dr. Tamam Mango, CEO of the Crown Prince Foundation said "CPF's vision focuses on supporting future leaders. The concept of giving back through volunteerism is considered an essential component across all of our initiatives, and today we are happy to renew our partnership with UNICEF.
She added that the partnership provides support and continued coordination within the volunteerism value chain in Jordan, through Nahno, operating under the larger umbrella of CPF.
"Over the past four years, we were able to promote a culture of impact through volunteering and civic engagement activities across Jordan", Mango noted.
"Young people have the potential and energy to contribute to a prosperous future," said Philippe Duamelle, UNICEF Representative to Jordan.
"We are glad that this renewed partnership with the Crown Prince Foundation will continue to offer opportunities for young people to develop their skills and play a meaningful role in shaping their communities and country."
Since 2018, CPF and UNICEF, through the Nahno program with the Ministry of Youth, have supported more than 128,000 young people to build and practice new skills, to actively engage in their communities for social impact and to expand their future employability.
The program, which aims to build a strong volunteering culture in Jordan, has resulted in young people contributing more than 3 million hours of their time to volunteer in the public sector, private sector, civil society and in their communities.