English
Ireland's Minister of State visits Amman New Camp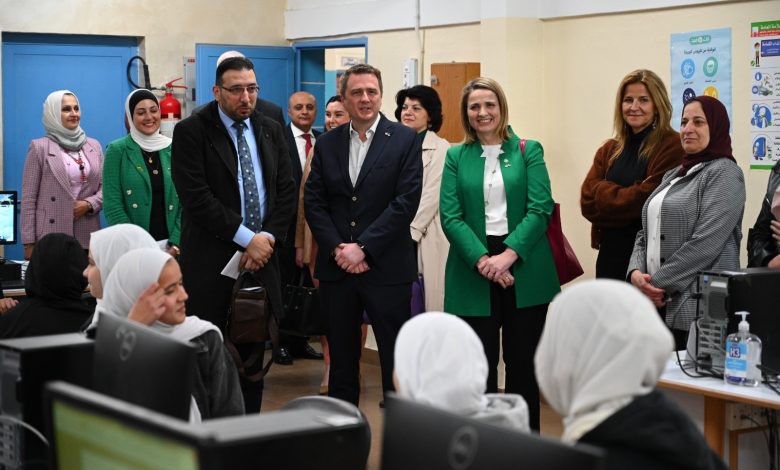 Jordan Daily – The Minister of State at the Ministry of Justice in Ireland, James Browne, on Tuesday visited Amman New Camp accompanied by United Nations Relief and Works Agency for Palestine Refugees in the Near East (UNRWA) officials.
The delegation accompanied Browne included Ireland's Ambassador to Jordan Marianne Bolger and UNRWA Deputy Commissioner-General Leni Stenseth, according to an UNRWA statement.
During the visit, the delegation was briefed on the agency's essential education, relief, health and protection service provision to Palestine refugees across Jordan and the impact of Ireland's support to UNRWA. This was followed by a meeting with Palestine refugee students participating in the Jordan Young Scientist Programme (JoYS) who presented their project.
Browne said: "I am very happy to visit the Amman New Camp's School today together with the United Nations Relief and Works Agency (UNRWA). Ireland and Jordan are close partners in enabling UNRWA to fulfil its mandate towards Palestine refugees. In 2022, Ireland contributed 8 million euros to support the work of UNRWA. I was especially happy to have talked to JoYS students about their project, achievements and their experience with the Jordan Young Scientist programme. I wish them all the best with the exhibition in June."
The Jordan Young Scientist programme was created to motivate and reward youth who study science, mathematics, engineering, and technology. JoYS was established in partnership with the Embassy of Ireland, Jordanian Ministry of Education, Crown Prince Foundation and Queen Rania Foundation.
"JoYS helped us become motivated and enriched our experiences and creativity when we interacted with other students participating in this initiative," Nadia, a 9th grade Palestine refugee student, said. She and her two classmates, with the help of their teacher, were able to design and create an irrigation system for their school's plants.
Bolger said: "Ireland is a committed supporter of the Palestinian people, as reflected by the priority we devote to our collaboration with UNRWA. It was a privilege to visit their programmes in Amman New Camp today and see how UNRWA is helping Palestine refugees. I am pleased that we cooperated with UNRWA to expand the young scientists' programme to include Palestine refugees from their schools. Fostering inclusion is a key goal for JoYS and we have received applications from all over Jordan and across all schools' sectors in 2023."
UNRWA Deputy Commissioner-General Stenseth said: "Ireland's frequent support to UNRWA is a testament of its confidence. We provide quality education to Palestine refugee children and youth, in addition to other areas of our work, especially health and social relief. Thank you for the confidence and energy and your commitment to Palestine refugees."